Camp Smith - 6 October, 2002--Taluto received the division's colors from Lt. General Joseph Inge, the 1st U.S. Army Commander. The exchange of colors has its roots in military customs, practices and needs dating back millenia. The ceremony itself follows the practices established for the U.S. Army during General George Washington's winter at Valley Force. Unit colors carried by soldiers from every Rainbow unit from every participating state of the Rainbow Division honored the outgoing and incoming division commanders.
Just one year ago, General Taluto commanded all National Guard forces responding to the terror attacks at the World Trade Center in New York City. A 1968 graduate of the New York National Guard's Officer Candidate School, Taluto is a 30-year veteran of the New York National Guard and has served at nearly every level of command. He has led Guard troops through some of their most significant state emergency response deployments including the devastating 1998 ice storm. the 1998 Stillwater/Mechanicville tornado, and the Guard's unprecedented response to the Sept. 11 World Trade Center attack.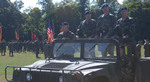 "Everything the Rainbow Division achieved in New York City is a direct result of the hard work and tireless efforts of the men and women who willingly serve their communities in peace and their nation in war," Taluto said. "I am honored to take command of the Rainbow Division and am committed to continuing the Division's legacy of excellence dating back to World War I."

Taluto succeeds Major General George T. Garrett as the 42nd ID's Commanding General. Garrett is retiring after 36 years of military service in the New Jersey and New York Army National Guards. He assumed command of the 42nd in 1999. In his civilian career, Garrett will continue to serve as the Director of Homeland Security for the State of New Jersey's Division of Military and Veteran's Affairs.
The 42nd Infantry Division is one of only 18 combat divisions in the entire Army, both active and reserve. Rainbow soldiers have the distinction of simultaneously performing duties supporting the Army in the nation's War on Terror while supporting their hometowns and states in homeland security missions and disaster response preparedness.
The Division is an Army National Guard multi-state force of over 14,000 soldiers, including National Guard troops from New York, New Jersey, Vermont, Massachusetts, Rhode Island, Kentucky, Illinois, Connecticut and Delaware.

Known as the "Rainbow Division," the 42nd has Headquarters in Troy, NY, and is organized as a heavy division, with armor, mechanized infantry, self-propelled artillery, engineer, aviation and support units.