New York State
Battle Flags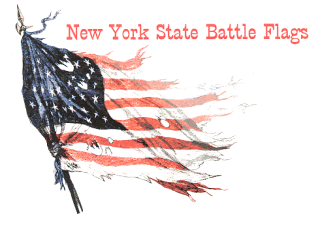 A significant part of the NYS Military Museum's permanent collection is a group of nearly 2,000 flags dating from the War of 1812 to the present. Included in this nationally significant collection is the largest collection of state Civil War battle flags in the country.
Flag of the Month
2nd Brigade, 1st Division, II Corps
Designating Flag
60" hoist x 72" fly
Civil War

This triangular-shaped, wool designating flag with a reverse appliquéd red cotton trefoil corps badge in the center and blue wool band along the hoist edge adheres to the flag designating system adopted by the Army of the Potomac in May 1863. The flag also includes black silk crepe hand-sewn around the outer edges. The crepe was most likely added by the brigade in late-April 1865 to show mourning for the slain President Abraham Lincoln.
Made by Horstmann of Philadelphia, this flag served as the headquarters flag for the 2nd Brigade, 1st Division, II Corps, Army of the Potomac, or more commonly known as the Irish Brigade. Although the exact date in which the brigade received this flag is not known, the banner most likely accompanied the brigade during Lieutenant General Ulysses S. Grant's 1864 Virginia campaign, including at Spotsylvania, Cold Harbor, and Petersburg, and during the decisive Appomattox Campaign in 1865. (2012.0048)
New York State Division of Military and Naval Affairs: Military History
Last modified: March 4, 2014
URL: http://www.dmna.state.ny.us/historic/btlflags/btlflagsindex.htm