Research Center
Online Resources
Adjutant General Reports
The New York State Adjutant General Reports are the reports given to the New York State Legislature by the head of the New York National Guard, the Adjutant General, or AG. Most years listed all of the officers in the NYNG and their unit affiliations; many years have a name index.
Men who were federalized in 1940
An online collection of over 28,000 names.
New York National Guardsman
The New York National Guardsman was a magazine published monthly from April, 1924 to August, 1940 when much of the New York National Guard was federalized for duty. It is a good source of photographs and biographical information on higher-ranking officers.
New York State Awards, Decorations, and Medals
Register of officers whose services terminated prior to Jan. 1, 1858
This is a collection of index cards. The collection is separated into 85 sections. Each card lists last name, first name, rank, and unit. Each card also refers to a page in a resource called Register "B."
The New York State Archives has Register B. More information on it can be found here

Charts showing lineage of New York Units, 1868 - 1940
Medal of Honor Recipients Affiliated with New York
Interested in other aspects of New York History?
Try searching New York Heritage.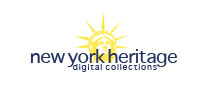 New York State Division of Military and Naval Affairs: Military History
Last modified: October 3, 2019
URL: http://www.dmna.state.ny.us/historic/research/researchIndex.htm