Top NY Homeland Security official observes CST training; says second one is needed
Story by: Master Sgt. Corine Lombardo - NY National Guard Public Affairs
Dated: Fri, Apr 20, 2007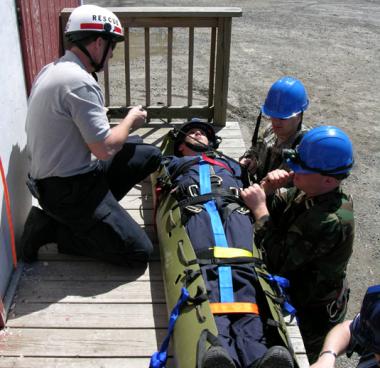 NY National Guard's 2nd Civil Support Team (CST) members prepare a liter victim, team member, First Sgt. Lance Woodard for extraction during confined space evacuation training at the Stratton Air National Guard Base, Scotia, NY on April 20. Photo by: MSG Corine Lombardo
---
SCOTIA, N.Y. -- New York's Deputy Secretary for Public Safety Michael Balboni recently visited Stratton Air National Guard Base to observe advanced training of the NY National Guard's 2nd Civil Support Team and to reiterate his call for the creation of a second CST in New York City.
"This team and the unique application of this force are crucial for any type of weapons of mass destruction scene, not only in terms of a unified response but for the confidence and safety of first responders," Secretary Balboni said. "In today's security environment, there is no more relevant or important application of the National Guard's unique ability to support and augment civilian authorities in times of crisis." Secretary Balboni was in Scotia on April 20 to observe the 2nd Civil Support Team's (CST) training in close-quarters operations and rope-suspended evacuation techniques -- skills essential to effective survey operations and removal of victims and team members from structures contaminated by chemical or biological agents.
The highly specialized CST is made up of Army and Air National Guard personnel and brings unique capabilities to local first responders across the state. The 22-member team deploys rapidly to assist emergency management personnel in determining the nature of an incident of known or suspected chemical, biological or radiological agents. The specialized unit is trained in identifying agents and substances, assessing current and projected consequences and advising civilian incident commanders on response measures.
The unit also "uses its wide range of expertise to provide medical and technical advice, and facilitates the identification and arrival of follow-on state and federal response assets," said Staff Sgt. Paul Lunny, a Survey Team Chief with the unit.
The highly trained hazardous material handlers search out possible chemical, biological or radiological contaminants, sample and analyze them to identify potential toxic substances with a state of the art mobile analytical laboratory. Adding to this capability, the team employs a $1.2 million communications suite, able to support emergency workers responding to incidents as part of NY State's emergency response structure.
"This is only one of the unique missions of the National Guard and we in New York are blessed to have them," said Balboni. Tech Rescue, a commercial expert search and rescue team was contracted to provide the unit's confined space evacuation. The instruction also included introductory and mastery rope rappelling training at the air base's fire training tower. "This advanced training will enhance the multitude of certified skills this team already possesses, said Peter Rizzo, retired Rochester Fire Department Captain and Tech Rescue President.
On September 11, 2001, New York's 2nd CST became the first such National Guard team to respond to an actual terrorist attack. Since then, the NY team has re-written CST doctrine, significantly expanding the value the team brings to the state and its communities. State authorities capitalized on the CST's unique detection capability, deploying them preemptively to large public events and other potential targets of opportunity to provide early warning of any WMD activity.
The 2nd CST has performed dozens of missions to aid federal, state and local civil authorities. "We have deployed to support New York City emergency management agencies to ensure public safety at the New York City Marathon, the American League playoff and World Series games at Yankee Stadium, New Years Eve celebrations, the US Open and the Republican National Convention," said Lunny.
Due to the increased missions and the unique capabilities of the CST, Secretary Balboni is working diligently with New York's congressional delegation to support a federal initiative to increase the Defense Authorization which will fund the establishment of another CST in New York. It is anticipated this newly formed team will be located in the metropolitan New York City area.
"In terms of critical infrastructure, high-value targets and symbolic importance, the City of New York has security requirements that exceed that of most entire states. Rather than continuing to rely on the Scotia-based team to meet the City's uniquely robust operational requirements and those of first responders across the State, it is high time that an additional New York City-based CST is funded and brought on-line," said Secretary Balboni.