US Army and Japan Defense Force Soldiers Compare Skills Through Training Exercise
Story by: Master Sgt. Corinne Lombardo - 42nd Infantry Division Public Affairs
Dated: Sat, Oct 10, 2009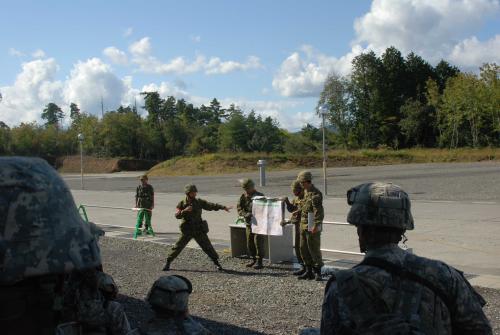 Japan's 7th Regiment, 3rd Army Division, Joint Ground Self-Defense Force explain their military tactics and techniques for urban assault training to Soldiers for the New York Army National Guard's 1st Battalion, 69th Infantry Regiment at Camp Imazu Military Operations Urban Training site, Oct. 11, 2009 during exercise Orient Shield. (Photo by Master Sgt. Corine Lombardo, 42nd Infantry Division (released)
---
AIBANO TRAINING AREA, JAPAN -- For any Soldier, entering and clearing an enemy position can be intimidating. Not knowing what lies beyond the door or what to expect requires reacting on instinct - instinct formed through battle drills and repetition.
It was these battle skills that Soldiers from the New York Army National Guard's, 1st Battalion, 69th Infantry Regiment and Japan's 7th Regiment, 3rd Army Division, Joint Ground Self-Defense Force compared at Camp Imazu Military Operations Urban Training site during exercise Orient Shield.
Orient Shield is a mutual US Army and Japan Defense Force joint exercise designed to enhance staff coordination and promote regimental and battalion level command and staff training opportunities, combat readiness and tactical level training. The exercise takes place Camp Imazu and Aibano Training Area in Shiga-prefecture, Japan, 10-17 October, 2009.
Both units demonstrated how they conduct military operations. Exchanging urban terrain operations tactics and techniques was just a small part of the exercise designed to integrate soldier skills while working toward a common training goal.
For many of these Soldiers it was their first opportunity to train with soldiers from a different culture with totally different weapons systems.
"This has been a great opportunity to assess how they perform their missions and possibly utilize some of their practices, said Staff Sgt. Johnny Madera, a Squad Leader with Bravo Company, 1-69 Inf. from Queens Village, NY.
"Their mission performance was executed on point with successful use of their equipment. Everything we saw today convinces me I'd fight along side them any day," Madera said.
Sgt. Masahiro Jyoko, Co. 5 Rifle Platoon Squad Leader gained a great deal on information from the combined training opportunity. "The 69th Inf. regiment fight effectively and have experience from combat. I am very happy to teach this important skills to my subordinates," said Jyoko.
The focus of the exercise is to give the battalion commanders tactical combat and battle staff skills while encouraging professional relationships, good will and understanding with the Japanese army.
"The procedures are similar to ours; they are very enthusiastic and expedient. They seem to be extremely disciplined and I am glad we had the opportunity to train with them," Madera said.