Malta Resident Patrick Murphy Receives Second Star as Major General Commanding New York's Military Forces
Dated: Fri, Aug 13, 2010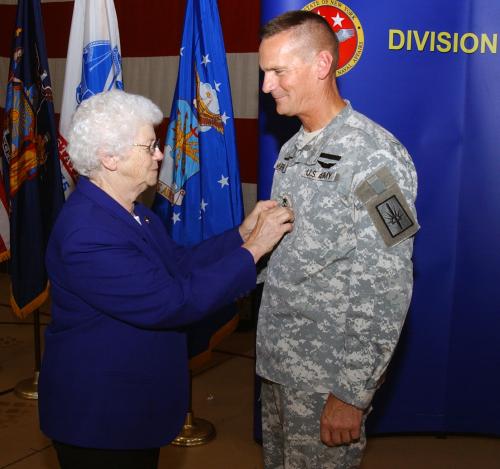 Carolyn Murphy pins his new rank on her son, Major General Patrick Murphy, the Adjutant General of New York. (Photo by Sgt. 1st Class Steven Petibone, 42nd Combat Aviation Brigade)
---
JOINT FORCE HEADQUARTERS, LATHAM, N.Y. (08/13/2010)(readMedia)-- Patrick Murphy, the Adjutant General of New York who commands the 20,000 men and women of New York's Military Forces, pinned on his second star to reflect the rank of Major General during a short ceremony here this morning.
Murphy's wife Cherie and his mother Carolyn, of Dike, Iowa, joined to pin on his new rank of major general, in front of the senior joint staff and Guardsmen and women. Murphy is a resident of Malta.
Also present for the promotion were Murphy's brother, retired Army National Guard Col. Matthew Murphy, of Washington, D.C.; his sister Air Force Reserve Senior Master Sgt. Mary Corwin, of Dike, Iowa, and his nephew Kyle Corwin, also of Dike, Iowa. Deputy Secretary for Public Safety Mary Kavaney represented Gov. David Paterson at the ceremony.
"It was with great pleasure that I selected Pat Murphy to serve as Adjutant General and he now wears the well-deserved rank of Major General," Paterson said. "He is the right man to lead the 16,000 men and women of the New York National Guard in serving the people of our great state."
By law the 54 adjutants generals of the states and territories are entitled to two-star Major General's rank. Paterson nominated Murphy for his promotion to major general as the Adjutant General in accordance with New York State military law. The state promotion was confirmed by the New York State Senate and will be followed by federal recognition through a similar confirmation process in the Senate.
New York's Military Forces include the New York Army National Guard, the New York Air National Guard, the New York Naval Militia and the state defense force volunteers of the New York Guard.
"For many years, I have had the privilege to pin new rank on our leaders and Soldiers in the force," Murphy said. "Promotions have always been a mark not of past achievements, but of future potential and expectations. I'm honored that my career with the New York National Guard gives me the opportunity to continue to lead such terrific men and women in uniform."
Murphy previously served in the New York National Guard as the Director of the Joint Staff where he was responsible for directing activities of the Joint Force Headquarters and advising the state's senior leaders on military domestic operations to support civil authorities.
Murphy began his military career in 1977 when he enlisted in the Iowa Army National Guard. He attended the Iowa Military Academy, Officer Candidate School and was commissioned in 1979. General Murphy attended helicopter flight training with a follow-on assignment as an aero-scout pilot. After serving in company and battalion command positions, as well as several battalion and brigade staff positions, General Murphy attended the United States Army War College.
His other assignments included Antiterrorism/Force Protection Officer U.S. Joint Forces Command, Director of Operations (J3), Joint Task Force Civil Support, Chief of Plans, U.S. Northern Command and Deputy Chief of Staff for National Guard Affairs, Third Army, Camp Arifjan, Kuwait from November 2004 to June 2007.