Story by: NYG Warrant Officer Ubon Mendie - NYG PAO
Dated: Mon, May 21, 2012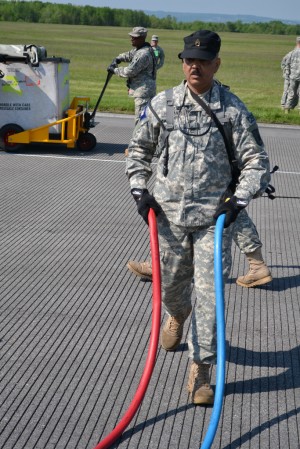 New York State Preparedness Training Center -- Oriskany, NY -- New York Guard Staff Sgt. Francisco Hernandez of the 88th Brigade is seen unraveling hot and cold water hoses used in the decontamination tent, during the Homeland Response Training, here, May 16. The state guard members train alongside their New York Army National Guard counterparts to respond to chemical emergencies per executive order of the New York State Governor.
---
NEW YORK STATE PREPAREDNESS TRAINING CENTER, ORISKANY, N.Y. -- New York Guard soldiers received Homeland Response Force validation after a week of intense training along-side the New York National Guard, here May 19. "We have a very cable and unique (Homeland Response Force)," said Maj. Gen. Patrick Murphy, the adjutant general of New York. The soldiers you see with the black hats are working hard alongside our Army and Air staff -- doing it all in a volunteer status." The FEMA II Homeland Response Force includes members of the New York Guard, New York, New Jersey, Puerto Rico and the U.S. Virgin Islands National Guards. The combined force supports civil authorities in response to CBRN or Hazardous Material incidents that require the evacuation, decontamination and medical triage of casualties. While undergoing the validation process, soldiers demonstrated their abilities under the watchful eyes of observer-trainer controllers from U.S. Army North and the Joint Inter-agency Training Education Center. Team members exhibited timely response readiness making them a vital response element capable of augmenting local first responders during a Chemical, Biological, Radiological or Nuclear (CBRN) incident within the FEMA II region of New York, New Jersey, Puerto Rico and the U.S. Virgin Islands. The team trains under Defense Department guidelines to respond within a 6-12 hour window to local authorities after a release of weapons of mass destruction (WMD) or other hazardous materials incidents, which would require assistance from military resources. The force is primarily equipped to respond via ground transport to an incident site, but is capable of air transportation to support all the states or territories responding to a CBRN event. The HRF provides governors a response capability able to assist first responders in saving lives by mitigating suffering in response to an incident. The HRF aligns with each Federal Emergency Management Agency region to allow for closer and more familiar contact with civilian responders. The force also provide a greater responsiveness to local authorities due to their closer geographical locations. When activated the HRF is led by the New York Army National Guard's 42nd Infantry Division, which is headquartered in Troy, N.Y.