Short Ceremony at Lexington Avenue Armory Commemorates State Partnership Program Relationship
Story by: Major Alvin Phillips - JFHA PAO
Dated: Wed, Dec 18, 2013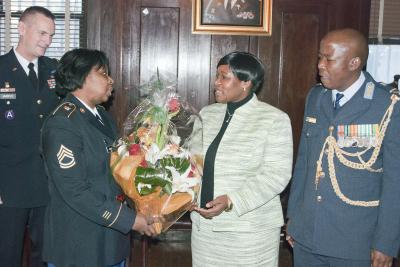 NEW YORK--Major General Patrick Murphy, the Adjutant General of New York,looks on as Sgt 1st Class Sandra Moody, presents a boquet to Matshipo Phala, the wife of Brig. Gen. Mashoro Phala, the South African Defense Attache to the United States (right) during a ceremony held at the Lexington Avenue Armory here on Dec. 18 to mark the 10th anniversary of the State Partnership Program relationship between the New York National Guard and the South African National Defense Force .
---
NEW YORK- The ten-year old National Guard State Partnership Program relationship between the New York National Guard and the South African National Defense Force has been a good deal for both the U.S. and South Africa.
"Over the last 10 years, we have achieved great success through our intense training and engagements and we do so because the elements of our success and future are built not on a one-way relationship but a reciprocal one," said Brig. Gen. Mashoro Phala, the South African Military Attache.
"We have a unique relationship with New York, one that we feel is reciprocal and mutually beneficial," said Kingsley Mamabolo the South African Ambassador to the United Nations.
Phala and Mamabolo, several South African officials who gathered with Major General Patrick Murphy, the Adjutant General of New York and other New York National Guard leaders at the Lexington Avenue Amory here on Wednesday, Dec. 18, to commemorate the New York/ South African relationship.
The State Partnership program got its start as a way to develop military-to-military relationships between the United States and countries which had once been behind the Iron Curtain, in the post Cold War world of the 1990s, Murphy said.
Since then it has grown into something much more useful, he said.
"We are now sharing lessons learned and best practices on disaster response; port security; battalion and small unit training; senior non-commissioned officer and officer development; facility management; environment protection; family support and joint exercises and trade shows," Murphy said.
Since 2003 New York Army and Air National Guard members have participated in South African air shows, military competitions and presented at South African military schools and leadership forums. South Africans, in turn, have visited New York Air National Guard bases and New York Army National Guard training events to share their knowledge and take on everything from using reserve military members to conducting public affairs.
During the past decade, the State Partnership Program enhanced the relationship between the United States and South Africa through numerous military and civilian exchanges, exercises and conferences," said Major John Sandefur, the New York National Guard State Partnership Program Coordinator.
Program highlights have centered around the role of the New York National Guard as an all-volunteer, professional military with dual missions that support the nation and the state. Emphasis on force structure, budgeting, recruiting and retention, civil-military cooperation and border security were primary objectives, Sandefur said.
The program was and is the key U.S. security cooperation tool that fosters military-to-military cooperation and encourages people-to people ties at the state level.
"Our partnership with South Africa significantly increases US engagement on the continent of Africa and serves to expand military interoperability, build cultural understanding, and create lasting friendships. The program is highly successful and cost effective," added Brig. Gen. Raymond Shields, the New York National Guard Director of the Joint Staff.
The Lexington Avenue Armory ceremony featured an exchange of symbolic gifts between the New Yorkers and South African officials. The South African delegation each received presentations of an award, lapel pin and military coin commemorating the occasion.
The Republic of South Africa, a country that will celebrate its 20th anniversary as a nation following the apartheid era, shares not only a professional relationship with New York but also a sentimental one, Mamabolo said. Nelson Mandela, its first elected President chose New York as his first major visit after being released from serving 27 years at Robben Island, a notorious apartheid-era political prison, the ambassador added.
Mandela's death on Dec. 5 was marked with a moment of silence during the ceremony.
The National Guard's State Partnership program is a low-cost way for the National Guard to assist the combatant commanders responsible for the U.S. military relationships with countries around the world, explained. Col. Michael Norton, National Guard Bureau's coordinator for State Partnership Programs.
When it comes to discussing military response to disasters, the National Guard is and especially perfect fit, he said.
"This is our niche," Norton said.
News Story: New York National Guard and South Africa Mark Tenth Anniversary of Partnership