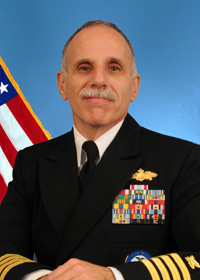 Captain Mauro began his Naval career by enlisting in 1977. He served tours of duty on USS KILAUEA (AE-26), and USS NASHVILLE (LPD-13).
He affiliated with the Navy Reserve in 1980, serving with Reserve Naval Mobile Construction Battalion Thirteen, Charlie Company.
Captain Mauro joined the New York Naval Militia in February 1981.
After receiving a direct commission in the Navy Reserve Supply Corps, he was assigned to Reserve Defense Contracting Support Region, Cleveland, OH. Other reserve assignments included Assistant Supply Officer, Commander Amphibious Unit Two, Buffalo, NY; Assistant Supply Officer and Supply Officer, Naval Mobile Construction Battalion Thirteen, Peekskill, NY; Operations Officer, Advanced Base Functional Component, Small 105, Rochester, NY; Executive Officer, Combat Logistics Squadron 2, Earle, NJ; and Senior Enterprise Logistics Officer, Fleet Forces Command, Norfolk, VA.
Captain Mauro was recalled to active duty in 1994 as the Transportation and Supply Officer of Navy Excess Material Team Europe, Ramstein AB, Germany in support of the Armed Forces draw down in Europe. Later assignments included Officer in Charge, Navy Transportation Equipment Management Center, Detachment Ramstein AB; Chief, Navy Support Team, Defense Supply Center Philadelphia, Mainz-Kastel, Germany; and Officer in Charge & Supply Officer, Navy Cargo Handling Battalion Eight, Fort Dix, NJ.
Captain Mauro was again recalled to active duty in 2004 as the U.S. Central Command Deployment and Distribution Operations Center senior sea service sustainment cell chief. While in Kuwait he supported all Navy and Marine Corps sustainment and retrograde logistics and transportation operations. In 2006 he returned to active duty as the US Transportation Command's Liaison Officer to the Defense Logistics Agency. During his one year recall, he worked as the key liaison between two major joint commands that provided strategic world class logistics, transportation and supply support for all classes of supply in support of Operation Enduring Freedom, Operation Iraqi Freedom and contingency operations worldwide. He performed duty in Djibouti in 2008, and as an Oil Terminal Liaison Officer in Iraq in 2009.
In his reserve capacity he has served as the Chief of Staff for the Defense Contingency Support Team staff headquarters unit. His follow on tour was with OPNAV N4 as the Director of Operational Support and Mobilization Readiness in the Pentagon.
His personal declarations include Defense Meritorious Service Medal, Meritorious Service Medal, Navy and Marine Corps Commendation Medal (3rd award), Joint, Navy and Army Achievement Medals, and various service awards and citations. He is designated as a Seabee Combat Warfare Specialist.
Captain Mauro is a graduate of the State University of New York, and Central Michigan University.
Captain Mauro has owned and managed a truck, trailer and equipment rental corporation, real estate property management business, real estate development company, and was licensed as a real estate broker. He continues to own, invest and consult in the real estate market. He resides in Williamsville, NY with his wife, Cheryl and their daughter.