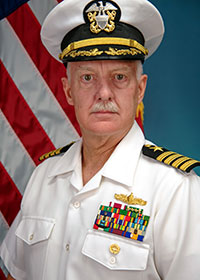 Commander Don McKnight was raised in Castleton on Hudson, New York. He is a graduate of the State University of New York at Oswego, St. Francis College, Loretto, PA., and the United States Naval War College, Newport, R.I.
He was commissioned an Ensign, United States Navy in March 1983.
As a surface warfare officer he served five tours at sea, including the Newport-based frigate USS CONNOLE (FF 1056), USS HERMITAGE (LSD 34) at Little Creek, VA., USS McKEE (AS 41) at San Diego, USS TRUETT (FFT 1095) at Ingleside, TX., and USS JOHN C STENNIS (CVN 74) at Norfolk, VA.
Commander McKnight's Navy shore assignments include: Navy Recruiting District Cleveland Ohio, and Naval Coastal Warfare Group TWO, at Williamsburg, VA.
He commanded Navy Reserve Centers at Ebensburg, PA., Albany, and Glens Falls, N.Y.
Upon retiring from the U.S. Navy in November 2005, he affiliated with the New York Naval Militia. His assignments included Assistant Officer in Charge and subsequently Officer in Charge of Region TWO. He is currently assigned as Commander of the New York State Military Emergency Boat Service.
His military decorations include the Meritorious Service Medal, the Naval and Marine Corps Commendation Medal (five awards), the Naval and Marine Corps Achievement Medal (two awards), in addition to other campaign, unit and service awards.