Biathlon Team

| | |
| --- | --- |
| John Studiner | Coordinator/Coach |
| Joseph Moryl | Vice Coordinator/Competitor |
| Deborah Nordyke | Competitor |
| Katy Moryl | Competitor |
| Kevin Brunick | Competitor |
| Jean Kratzer | Competitor |
Biathlon is winter Sport that combines rifle marksmanship and cross-country skiing. Each year, the National Guard conducts Regional and National competitions with the very best performers then competing on the 'All Guard' team representing the Department of Defense at International Military Competitions. Some athletes also go on to compete on the U.S. Olympic team.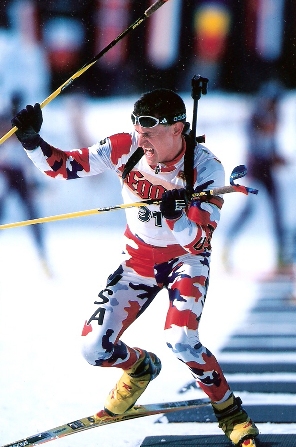 Competitors race laps of 2 or 2.5 kilometers and then fire 5 shots at 50 meter targets -- with the clock still running. Each miss draws a penalty requiring the athlete to ski extra 150 meter penalty loop. Over the course of a race, a competitor skis 7.5 to 12.5 kilometers and fires 10 to 20 rounds from prone or offhand (standing) positions.
More than 20 States participate in the National Biathlon program. There are two funded race series during the winter months that include the Eastern Regional Championships (4 days) and the National Guard Bureau Biathlon Championships (9 days). Competitions include Sprint and Pursuit individual races and team relay and military patrol races. Competitions rotate annually between Camp Ethan Allen, VT, Camp Ripley MN, and Camp Williams (Soldier Hollow), UT.
The New York National Guard welcomes new athletes to our program. We have a very active club- and civilian-race series in the winter and an active summer-training (running and shooting) program. The NYARNG has a limited number of competition firearms, ski equipment and supplies for athletes who are interested in competing.
If you would like more information or have any questions, contact the NY National Guard Biathlon Team Coordinator, Lieutenant Colonel John Studiner: john.r.studiner.mil@mail.mil