Biathlon Team

| | |
| --- | --- |
| Curt Schreiner | Biathlon Team Captain |
| Deborah Nordyke ANG | Biathlon |
| John Studiner | Biathlon |
Biathlon is a Winter Olympic Sport that combines rifle marksmanship and cross-country skiing. Competitors race on multi-kilometer courses which are punctuated with target ranges. At each range -- with the clock still running -- the racer fires 5 shots at bullseyes placed 50 meters away, using a bolt action rifle with peep sights. Each miss draws a penalty: a minute added to the skier's time or a requirement to complete an extra 150 meter penalty loop. Over the course of a race, a competitor typically fires 10 to 20 rounds, from prone and offhand positions.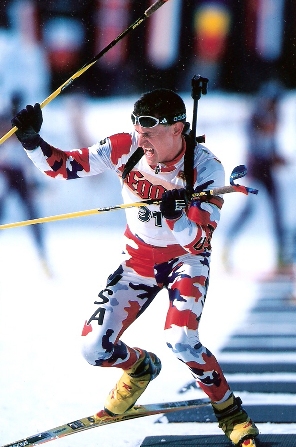 Modern race distances for men include 10km and 20km. Men's races also include 12.5km pursuits and relays in which each of four competitors skis a 7.5km course. Women's distances include 7.5km and 15km. The current standard women's pursuit is 10km while the womens' relay is comprised of four legs of 6km each.
Biathlon was introduced into the modern Olympics in the early 1900s, taken out for a time after WWII and reintroduced in 1960. The Winter Olympics see more countries represented in the biathlon than any other sport. Many of the athletes who compete internationally are members of the armed forces due to the skills and training required to excel in the sport.
The New York National Guard welcomes new athletes to our program. We have a very active club- and civilian-race series in the winter and an active summer-training (running and shooting) program. The NYARNG has a limited number of competition firearms and ski equipment and supplies for athletes who are interested in competing. There are two funded race series during the winter months that include the Eastern Regional Championships (4 days) and the National Guard Bureau Biathlon Championships (9 days). These competitions are usually held at Camp Ethan Allen, VT or Camp Ripley MN.
For more information about the sport you can check online at http://usbiathlon.org. For NY State competition schedules and links to clubs and other information sites go to http://www.nyssranordic.com. For a club in the Capital Region go to http://saratogabiathlon.20m.com, or phone (518) 696-5495.