Land Mine
New York National Guard doctors drive over a land mine
and live to tell the tale
magine yourself inside a truck that's about to drive over a real land mine. That's what two New York National Guard surgeons volunteered to endure when they attended the Blast Trauma Effects Congress in Pretoria, South Africa recently. Dr. (Lt Col) Joseph DeLuca and Dr. (LTC) Paul Mabry went to a South African military training range to observe new technology designed to minimize explosive injuries.
---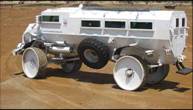 South African Mine Resistant Tactical Vehicle.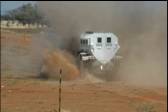 Detonation!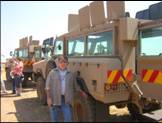 Shaken but not stirred. Dr. (Lt Col) Joe DeLuca, NYANG, poses after his encounter with the land mine.
©
NYS DMNA
: NY National Guard South Africa Partnership - New York National Guard doctors drive over a land mine and live to tell the tale
URL: http://dmna.ny.gov/spp/?id=blast
Page Last Modified: 03 Nov 16