Members of the New York Air and Army National Guard are now partnering with Airmen and Soldiers from half a world away. New York State and South African forces have engaged in partnership events together since 2003.
New York National Guard & Republic of South Africa
The State Partnership Program links a state's National Guard with the armed forces of a partner nation in a cooperative, mutually beneficial relationship. There are currently 73 State Partnership Programs throughout the world and 13 programs in Africa. This program is administered by the National Guard Bureau, guided by State Department foreign policy goals, and executed by the State Adjutants General in support of the combatant commander, security cooperation objectives and Department of Defense policy goals. It builds capacity and capability within the partner nation's security forces. It also cultivates personal, professional, and institutional relationships while training National Guardsmen for Title 10 and Title 32 missions.
Today the program has expanded to include creating strong and enduring military to civilian relationships with various government agencies within the partner nation.
USARAF SPP Conference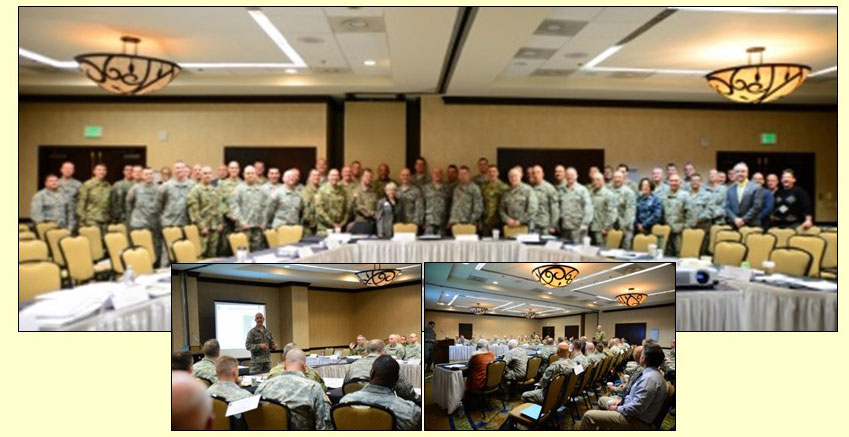 The Adjutant General, Director of the Joint Staff, State Command Sergeant Major, State Partnership Program Coordinator and Bilateral Affairs Officer attended the United States Army Africa SPP Conference in Raleigh, North Carolina 25-28 January 2016. The conference was hosted by the North Carolina National Guard.
National Guard Bureau SPP Workshop
The State Partnership Program Coordinator, Major Todd Balog, attended the National Guard Bureau State Partnership Program Workshop 4-8 April 2016 in Charlotte, North Carolina. The purpose of this conference was to provide current information on the State Partnership Program, instruction and collaboration to improve the current 73 programs across 54 States and Territories.
Disaster Preparedness Main Planning Conference
The New York National Guard participated in the Disaster Preparedness Main Planning Conference with the South African National Defense Force on 4-8 April 2016 in Pretoria, South Africa. New York sent Major John Nitka, Major Jason Zeliph and Staff Sergeant Tom Myers to assist with planning efforts. Major Amy Bonanno, currently residing in South Africa with her husband who serves as the Bilateral Affairs Officer, also participated in the conference. Eleven South African National Defense Force planners hosted the Guardsmen.
New York National Guard Congressional Breakfast
The New York National Guard held their annual Congressional Breakfast in Washington, DC at the Rayburn House on 1 March 2016. The South African Ambassador to the United States, Ambassador Mhlangu, attended the breakfast with the South African Defense Attache, Brigadier General Phala. Congressmen representing New York attended the event to include Congressman Chris Gibson.