Major Eric Killoran, Republic of South Africa Bilateral Affairs Officer for New York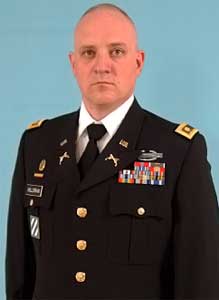 Currently serves as the Bilateral Affairs Officer for New York's state partner, the Republic of South Africa. Previous positions held include; Deputy Provost Marshal 42d ID, Operations Officer 42d DART, Operations Officer NY CERFP, Company Commander HHC 27th IBCT (Deployed), Company Commander 222nd Military Police Company, Company Commander C Co 1-108th IN, Platoon Leader A Co 3-124 IN (Deployed)
Military Education: Infantry Basic Course (IOBC), Infantry and Military Police Officers Advance Courses, Combined Arms Exercise (CAX). Additional courses Defense Support to Civil Authority, Antiterrorism Basic and Advance Courses.
Civilian Education: BA in Humanities and Community.
Awards include the Bronze Star, Meritorious Service Medal, Army Commendation Medal, and Army Achievement Medal.