The Defense Logistics Formation Headquarters in Pretoria South Africa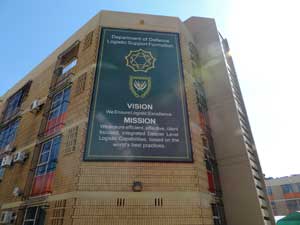 LTC Stewart and LTC Freehart conducted an exchange with facilities managers and personnel in Pretoria South Africa from 24-28 June 2013. As South Africa looks to improve and change their facilities management policy and philosophy, New York shares the experiences and successes of our programs for consideration.
---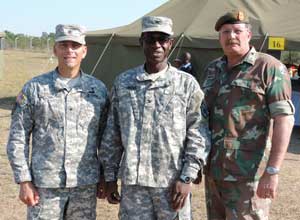 South African medical providers worked with Army and Air Force medical providers to screen and provide services to citizens of Grahamstown South Africa during Shared Accord 2013 from 17-30 July 2013. This cooperation allows military personnel to work along side of their international counterparts while providing benefit to the local community.
Left to Right: BG Corey, COL Michel, BG Smith.
---
The new Senior Defense Attache to the United States from South Africa, BG Mashoro Phala, visited New York to discuss the long standing partnership between his nation and our state. This 10 year partnership continues to grow and provide mutual benefits to South Africa and New York State. (12-13 June 2013)
Left to right: BG Mashoro Phala, MG Patrick Murphy.
---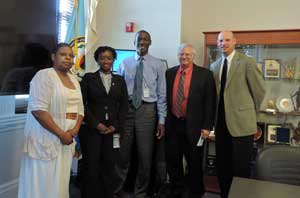 The Africa Center for Strategic Studies provided relevant and current assessments of African Policy, Issues, and Opportunities during a Reverse Outreach trip 16-19 June 2013. This was one of many visits conducted to identify resources, personnel, and institutions to assist and enhance the partnership with the Republic of South Africa.
Left to Right: SFC Sandra Moody, Ms. Dana Mascali, Dr. Raymond Gilpin , LTC (Ret) Thomas Dempsey, MAJ John Sandefur.
---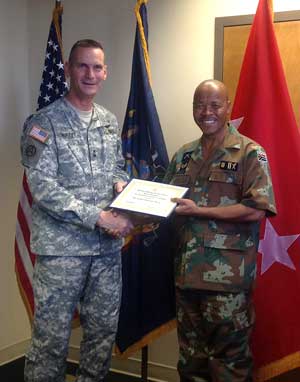 The Adjutant General, MG Patrick Murphy, presents the "Adjutant Generals Award" to MG Mogoruti Ledwaba during a visit to Joint Forces Headquarters in Latham, New York from 3-7 December 2012. MG Ledwaba was serving as the Senior Defense Attache to the United States from South Africa.
Left to Right: MG Patrick Murphy, MG Mogoruti Ledwaba.
---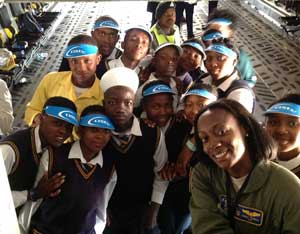 A1C Myree Thomas poses with local school children at Waterkloof Air Base during the international air show in South Africa. The show featured aircraft and vehicles from the Air and Army National Guard of New York from 18-24 September 2012.