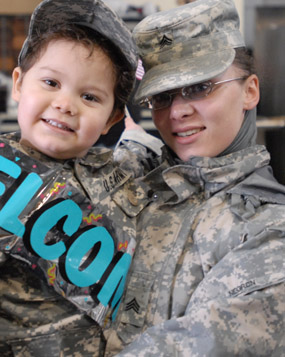 Sending Care Packages: Use the exact address provided by your Service Member. Because of security concerns and transportation constraints, the military cannot accept items to be mailed to "Any Service Member." Some people have tried to avoid this prohibition by sending large numbers of packages to an individual service member's address which, however well intentioned, clogs the mail and causes unnecessary delays.
Below are web sites for several organizations that are sponsoring programs for members of the Armed Forces overseas and those hospitalized overseas and inside the U.S.
Donate a calling card to help keep service members in touch with their families through the military post, ship, and base stores (exchange) system (DoD news release with links) or through Operation Uplink at http://www.operationuplink.org
VFW Foundation
406 W 34th Street, Kansas City, MO 64111
Call (800) 479-5228 or (816) 756-3390
Email
uplink@vfw.org
The "Stars and Stripes" newspaper includes a daily "Messages of Support" section giving family and friends of deployed service members a chance to pass along greetings, announcements, and words of encouragement. Such messages (LIMITED TO 50 WORDS OR LESS) will be printed on a first-come, first-run basis. Messages may be sent to: messages@stripes.com.
Make a donation to one of the military relief societies:
For more information visit the U.S. Department of Defense homepage at www.defenselink.mil/faq/