TOP
Tue, Nov 10, 2009 - 2:10 PM (EST America/New_York)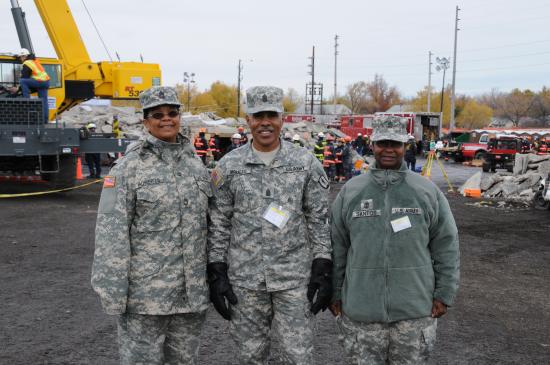 (Left to right) Master Sgt. Myrtle Roberts, Command Sgt. Maj. Pedro Morales and Maj. Eugenie Santos traveled 1900 miles from the Virgin Islands to participate in the recent Vigilant Guard exercise.
By Staff Sgt. Peter Dean
Lt. Col. Elvis Harvey, VING, shadows Lt. Col Barry Griffith during the week long Vigilant Guard exercise. Col. Harvey traveled 1900 miles from the Virgin Islands to observe the exercise. The VING is slated to host a Vigilant Guard in 2014.
Vigilant Guard draws participants from afar
By Staff Sgt. Peter Dean, 107th Airlift Wing
11/10/2009 - Niagara Falls -- Traveling more than 1,900 miles from the tropical paradise of the Virgin Islands to the fall weather of Niagara Falls, members of the Virgin Islands National Guard came to participate and observe the recent Vigilant Guard exercise. The exercise simulated a 5.9 earthquake, devastating the Niagara region. Designed to create a realistic environment in which both civilian and military responders were able work together orchestrating a plan of attack, guiding search and rescue/recovery efforts. It also gave responders, medical personnel and logistics the ability to implement their training, giving them a platform to determine what works and what may need to be refined.
"This is great opportunity to see firsthand the daily operations of an exercise of this magnitude," Lt. Col. Elvis Harvey, VING, Joint Force Headquarters, Plans and Policy Officer. "I've taken a lot of notes," he added.
"We're slated to hold our own Vigilant Guard exercise in 2014," said Master Sgt. Myrtle Roberts, VING, Joint Force Headquarters. "It will probably be a hurricane or some sort of tropical storm," she added.
According to Sgt. Maj. Eugenie Santos, VING, Joint Force Headquarters, the VING has responded to numerous hurricanes in the past.
"Some of the training is a refresher for us," said Sgt. Maj. Santos. "But it's nice knowing how other branches operate," she added.
"This is time well spent," said Command Sgt. Maj. Pedro Morales, VING, Joint Force Headquarters. "We are getting to see how other states operate, he added.
"It's a two way street, we have responded to many storms," said Command Sgt. Maj. Pedro Morales. "We will share our way of responding and also take home many lessons," he added.
All the comments from the VING members echoed the same sentiments, despite the frigid temperatures of Western New York; this was a worthwhile trip, enabling them to take valuable information back to the soldiers of the Virgin Islands.