TOP
Mon, Oct 19, 2009 - 9:30 AM (EDT America/New_York)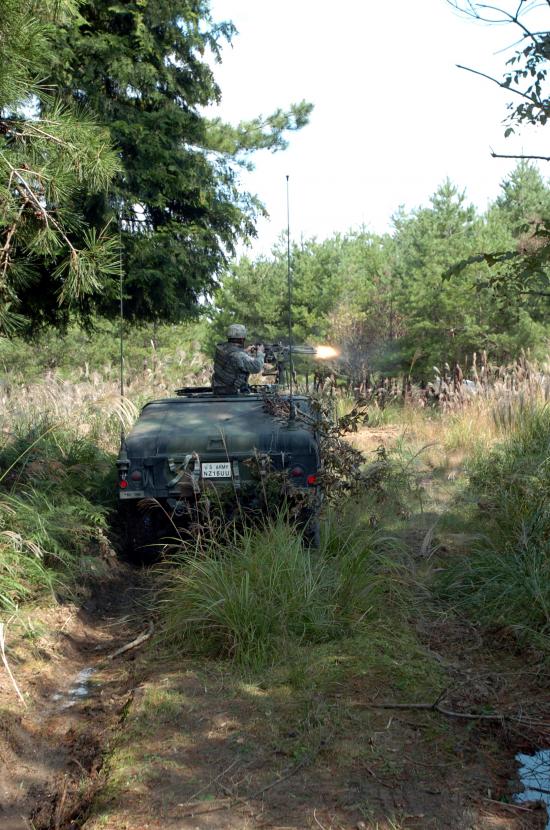 Spec. John Walis, 1st platoon, Delta Company, 1st Bn, 69th Inf. Regiment fires a 50 calibar machine gun against opposing forces during Orient Shield field training exercise, Aibano Training Site, Japan, Oct. 16, 2009. Orient Shield is a mutual US Army and Japan Ground Self Defense Force joint exercise designed to enhance staff coordination and promote regimental and battalion level command and staff training opportunities, combat readiness and tactical level training. The exercise took place at Camp Imazu and Aibano Training Area in Shiga-prefecture, Japan, October, 10-17, 2009.
Joint US-Japan Training Teaches Lessons All Around
Aibano Training Area, Japan -- Hundreds of US and Japanese Soldiers took to the wood lines here in a simulated combat field training exercise. Moving simultaneously and parallel with one goal in mind -- defeat a common enemy.
Soldiers from the New York Army National Guard's 1st Battalion 69th Infantry Regiment identified enemy fighting positions and collected information on the makeup and strength of the fictional enemy. This was used to assist both the US Army and the Japan Ground Self-Defense Force (JGSDF) soldiers set up hasty defense positions and attack and defeat enemy forces. Ground and mounted soldiers from both forces crossed steep elevations and rivers, concealing their movements as they denied the enemy the capability to conduct counter attacks on friendly forces.
The ultimate goal was to advance the 7th Regiment, JGSDF, to their appointed objective and secure it. Mission Accomplished.
During the field exercise, which took place from October 16-18, Soldiers put into play many of the combat skills and techniques they demonstrated to one another over the past week, while participating in Orient Shield 10, October 10-17, 2009.
"Orient shield is an exercise we run every year with the Japanese in a bilateral environment to really strengthen the relationship between the US Army and JGSDF," said Major General Francis J. Wiercinski, US Army Japan/I Corps (Forward) Commanding General, Camp Zama, Japan.
"The 1-69th Soldiers have been training side by side with their Japanese counterparts and sharing their knowledge; not only what they've learned in combat, but their Soldiers skills as well," Wiercinski said.
Throughout the week-long exercise designed to promote regimental and battalion level command training opportunities, combat readiness and tactical level training, US and JGSDF soldiers exchanged combat skills and techniques.
Demonstrating how they conduct military maneuvers in urban terrain operations, air assault missions, squad movement and reconnaissance techniques. Of particular interest to Japan forces was learning to engage targets while moving in a confined area and reacting quickly to unstable targets.
"The command and control abilities of the 69th Regiment Commander, staff activities and basic action of each soldiers, are very helpful for us," said Col. Hiroyuki Hata, 7th Infantry Regiment Commander.
"They've also learned about Japanese leadership skills and techniques, tactics and procedures... and that's what this whole thing's about," Wiercinski added.
"This training is a way to build up connections between the US and Japan Ground Self-defense Force. It is most important in case we must conduct combined operations under each chain of command," said Lt. General Mamoru Fujisaki, Commanding General for the 3rd Division, JGSDF, Camp Senzo, Japan. "This field training exercise is remarkable, which has a direct bearing on interoperability."
For many of these Soldiers it was their first opportunity to train with soldiers from a different culture with totally different weapons systems.
"This has been a great opportunity to assess how they perform their missions and possibly utilize some of their practices," said Staff Sgt. Johnny Madera, a Squad Leader with Bravo Company, 1-69 Inf. from Queens Village, NY.
"Their mission performance was executed on point with successful use of their equipment. Everything we saw convinces me I'd fight alongside them any day," Madera added.
Sgt. Masahiro Jyoko, Co. 5 Rifle Platoon Squad Leader, gained a great deal of information from the combined training opportunity. "The 69th infantry regiment fight effectively and have experience from combat. I am very happy to teach these important skills to my subordinates," said Jyoko.
"We should train more and we must reflect on what we have studied from US and also hope this exercise has the honor of good relationship between US and Japan. The friendship and trust built between 1st Bn. 69th Regiment and the 7th Infantry Regiment is forever," Hata said.
"It's an honor to have the 69th here. They have a great history, a magnificent combat record and they come here with an attitude of learning and an attitude of teaching and that's exactly what we need," Wiercinski said.
"My hat goes off to them for doing such a superb job out here, for extending US and Japanese relations, and really being great ambassadors for the United States of America," Wiercinski said.
"This has been an outstanding experience for our Soldiers, not only in the context of our own training, but the opportunity to share our experiences with our Japanese counterparts and learn from them," said Lt. Col. John Andonie, Commander, 1st Bn. 69th Infantry Regiment, New York Army National Guard.