TOP
Wed, Aug 18, 2010 - 1:30 PM (EDT America/New_York)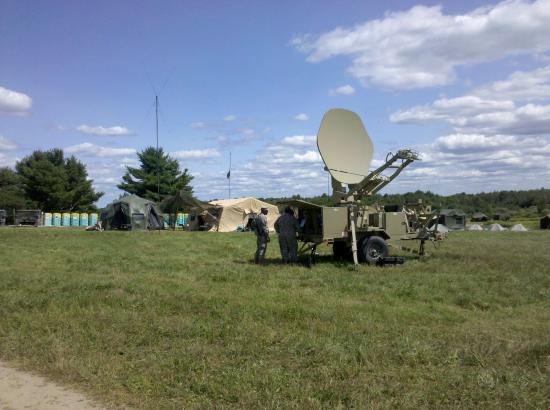 Soldiers from C Company, 27th Brigade Special Troops Battalion set-up the Satellite Transport Terminal (STT).
2LT Daniel A. Vidny
A Company, STB, 42d ID
Richfield Springs, NY
Since 1863, Soldiers of the U.S. Army Signal Corps have provided commanders with the communication assets necessary to coordinate fires, movement and logistics in order to achieve mission success. Although the technology has advanced light years over the past century and a half, from the semaphore flags to mobile satellite communication networks, it has always been the responsibility of Army Signaliers to be the "Voice of Command", enabling commanders to effectively direct their units and control the tempo of battle. Soldiers from C Company of the 27th Brigade Special Troops Battalion continue this tradition, applying their training and personal expertise to the task of managing the Brigade Headquarters' communications nerve center.
Arriving on July 21st, the Signaliers of C Company immediately began establishing the foundation for the brigade network. Commo soldiers of newly arriving battalions into the training area were able to coordinate their resources and set up radio, satellite and internet communications without delay.
C Company's acting first sergeant, Sergeant First Class Ronald Stabler, attributes the unit's success to the hard work and efforts of the Soldiers and their enthusiasm. Although he and the company commander, 1LT Robert Rindfleisch, have successfully organized the unit for their current mission, the original task of the company was entirely different.
"Before we were Signal, the company was a Combat Engineer unit", SFC Stabler said telling the story of how the C Company Signaliers came to be. "In 2005 we got reclassified and received new equipment. The JNN (Joint Network Node) we were issued was set up a year before any of our operators were actually certified to use it."
The company continues to receive, train on and instruct other Soldiers in the use of new communications equipment as it gets fielded. Operators often drive out to different battalions and correct technical issues as well as share their experience with them, developing the brigade's signal expertise as a whole.
"Whenever we have the opportunity to bring out and practice on any equipment we do it," says SFC Stabler. "If there is an event, then we turn it into a training event."
SFC Stabler also credited the unit's accomplishments to their previous company commander. The signal company would not be as successful as it is if it weren't for the support and guidance of 1LT Kyle Slocum."
The Signal Corps motto Pro Patria Vigilans, "Watchful for the Country", reflects how the C Company and other 27th Brigade Signaliers continuously monitor and support the main effort, allowing the brigade to maintain a high level of coordination and efficiency throughout its large scale operation. The Soldiers of C Company remained with the 27th Brigade Headquarters as support till August 12th.