TOP
Sun, Apr 6, 2014 - 3:50 PM (EDT America/New_York)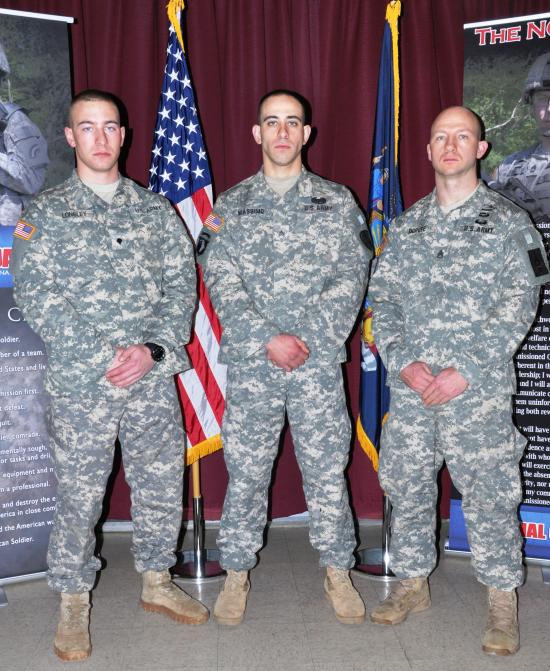 The three winners of the New York Army National Guard's Best Warrior Competition were announced April 5, 2014 after three days of difficult challenges. Spc. Caleb Longley, Sgt. Sean Massimo and Staff Sgt. Jeffrey Dorvee were the over-all champions, however only Longley and Dorvee will continue on to the northeast region finals.(New York Army National Guard photo by Sgt. Patricia Austin)
Best of the Best: New York Army National Guard Troops Score Big in Best Warrior Competition
By Sgt. Patricia Austin, Joint Force Headquarters, New York
CAMP SMITH TRAINING SITE, N.Y. (April 6, 2014) — After three days of difficult challenges, two soldiers have taken top honors in the New York Army National Guard's Best Warrior Competition.
Staff Sgt. Jeffrey Dorvee and Spc. Caleb Longley have proven that they have what it takes to represent New York at the northeast regional Best Warrior Competition (BWC).
Dorvee, a supply sergeant with the 1427th Transportation Battalion, is the winner of the Active Guard and Reserve (AGR) non-commissioned officer (NCO) category. Dorvee scored the highest number of points in both NCO categories and will therefore represent New York.
Sgt. Sean Massimo, a military policeman with the 442nd Military Police Company, is the winner of the Traditional (M-Day) NCO category. Longley, an engineer with the 152nd Engineer Support Company, is the winner of the Traditional Soldier category.
"I'm glad I got to come here," said Massimo, a resident of New Rochelle, N.Y. "I loved the competition."
The annual event tests competitors in a wide range of Soldier skills, including physical fitness, military knowledge, endurance, marksmanship and land-navigation. This year rain and other unfavorable weather conditions did not deter the competitors from trying their hardest.
"This is the closest competition we've ever had," said Command Sgt. Maj. Frank Wicks, the New York National Guard command sergeant major. He added that both champions of each NCO category had won by less than a point.
"It was a very hard competition," said Longley, who lives in Pulaski, N.Y. "I felt prepared; but you can only prepare so much."
That's because every competitor had to prove their physical and mental proficiency, while also demonstrating that they could operate effectively under stress.
"The timeline for the events made transitioning extremely intense," said Dorvee, a father of two and resident of Queensbury, N.Y. "I definitely have a sense of accomplishment."
At the northeast region BWC, Dorvee and Longley will be competing against the Best Warriors of Vermont, Rhode Island, Connecticut, Massachusetts, New Hampshire, Maine and New Jersey.
"I'm nervous but I feel that this competition has really prepared me," said Longley. "I just plan to keep training and to do my best."
The Region One competition is scheduled to take place from May 13 to 15 in Camp Ethan Allen, Vt.