Press Release Index
CONTACT: Major Suzanne Jedrowsko, : (315) 233-2651
FOR RELEASE: Thursday, Jul 27, 2023
Hancock Field Airport and New York Air Guard hosting Runway 5 K in September
Syracuse area runners are being invited to take part in a five K race on the Hancock International Airport Runway on Saturday Sept.9, alongside members of the New York Air National Guard.
HANCOCK FIELD, SYRACUSE, NEW YORK (07/27/2023) (readMedia)-- Syracuse area runners are being invited to take part in a five K race on the Hancock International Airport Runway on Saturday Sept.9, alongside members of the New York Air National Guard.
The "Runway 5K" is being hosted by the New York Air National Guard's 174th Attack Wing and Hancock Field International Airport.
The 2022 race attracted 402 runners from across the area.
The course will also feature two of the MQ-9 Reaper remotely piloted aircraft flown by the 174th Attack Wing along the race route.
Arriving or departing aircraft will use the airport's secondary runway during the event.
Col. John O'Connor, commander of the 174th Attack Wing, and an avid runner, said he is looking forward to both hosting and participating in the race this year.
"As a runner, I'm always looking for new and exciting places to run," O'Connor said. For people looking for a distinct, rewarding physical fitness challenge, the Runway 5K offers just that.
This year's race is capped at 1,000 runners and will feature twice as many age categories for race participants. The age group awards will be 19 and under, 20-24, 25-29, 30-34, 35-39, 40-44, 45-49, 50-54, 55-59, 60-64, 65-69, 70-74, 75-80, and 80+ for males and females.
Runners who place in their age categories will not only receive medals but will also be given special military patches and challenge coins unique to the 174th Attack Wing.
The top overall male and female runners will be given custom made MQ-9 model trophies, presented by Col O'Connor.
Staff Sgt. Colin Kistner, the lead planner for the inaugural 5K and co-lead for this year's race, said he is looking forward to another successful event.
"We are happy and excited to bring back the event for this year and hopefully years to come," Kistner said.
Senior Airman Miguel Rodriguez Peraza had so much fun running last year's race that he wanted to become more involved by co-leading this year's event with Kistner. "Running the inaugural 174th Attack Wing Runway 5K was a once in a lifetime experience," Rodriguez Peraza said.
Col. Nick Lotito, who also ran the 2022 5K, shared Rodriguez Peraza's sentiments. "If you were going to do your first 5K or fiftieth, this should be on your list!" Lotito said.
The Runway 5K stands apart from other local races because it takes place on an actual runway.
At 9,000 feet, the Syracuse airport main runway is 1.7 miles long. A 5k race is 3.1 miles, a little less than a run down the length of the runway and back.
The race, hosted by the 174th Attack Wing and presented by Syracuse Hancock International Airport, will give members of the Syracuse area the opportunity to run on the runway for a unique experience.
Another exclusive feature of the race, in addition to running on the tarmac, is that it begins and ends on a military installation, surrounded by both commercial and military aircraft. This gives the participants a special sneak peek behind the scenes of an Air National Guard base.
"We are looking forward to hosting the community and showing the community what we are all about," O'Connor said. We are excited to work with SRAA (Syracuse Regional Airport Authority) and other partners to present the 5K."
All racers will receive t-shirts as part of the registration package. In 2022, all runners received the same color shirts. 2023 will feature a new concept, with two different shirt colors. Military members will be running in orange shirts to represent the 174th Attack Wing, whose unit colors are blue and orange, while civilians will receive red shirts.
Although weather is a factor in any race, it presents a unique challenge to the Runway 5K. Because one of the runways will be used for the race, a great deal of coordination is required to successfully execute the race while keeping the airfield open and operational. If the weather is bad on race day, alternate routes will be used to ensure the run can go on without any impact to airport operations.
"After a successful inaugural race last year, we're excited to once again partner with the 174th Attack Wing to provide Central New York runners this unique experience," said Syracuse Regional Airport Authority Customer Experience Manager Matt Szwejbka.
"Whether you end up setting a personal record or just getting a great workout in, we're confident that running on an airfield alongside departing or arriving aircraft will be a truly memorable experience."
The Runway 5K is a community event designed to bring the public together with the military community and highlight the presence of the wing. As citizen Airmen in the Air National Guard, the majority of 174th Attack Wing members serve part-time while holding full-time jobs or going to school. They rely on the local community for all aspects of life, from housing to medical care and everything in between.
Air National Guard units also help the local community as needed during domestic operations such as responses to natural disasters like snowstorms and flooding.
Attachments: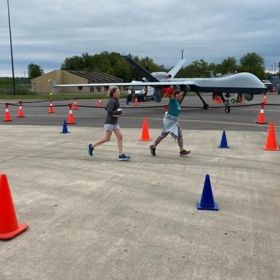 Runners pass an MQ-9 Reaper flown by the 174th Attack Wing during the 2022 Runway 5 K race.
©
NYS DMNA
Press Release:Hancock Field Airport and New York Air Guard hosting Runway 5 K in September
URL: https://dmna.ny.gov/pressroom/?id=1693949965
18.206.48.243
Page Last Modified: Sep 05, 2023