Information for Families and Funeral Directors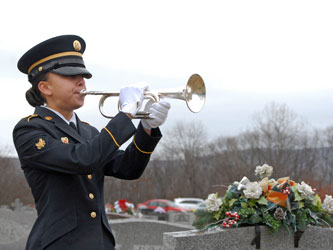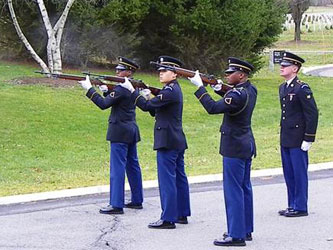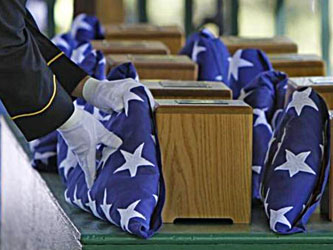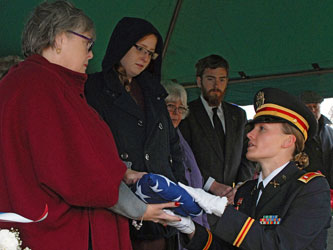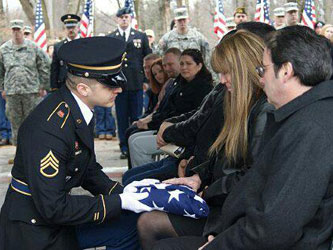 Honorably Discharged veterans are eligible for funeral honors. When available, New York State's military forces provide this service at no cost to the families or funeral homes. We are honored to provide these services for departed veterans and their families.
---
Types of Honors
Modified Full Honors - (9 Soldiers)
Consists of:

Chaplain (When requested and if available)
Firing Party
Playing of Taps
Flag Folding
Flag presentation to next of kin

Authorized for:

Retirees with 20 or more years of service
National Guard, Reserve and Active-Component services members who died while on Active Duty
Modified Honors - (2 Soldiers)
Consists of:

Playing of Taps
Flag Folding
Flag Presentation to next of kin

Authorized for:

All Army Veterans with an honorable discharge
---
Required Documentation:
DD214 for Active Duty or Reservists
NGB 22 for National Guardsman
For information on obtaining a DD214, visit http://www.va.gov
Funeral Directors should complete a DMNA Form 86 as early as possible and contact their nearest office.
Army National Guard
Northern Region
Latham
Phone: (518) 786-4481

---
Syracuse
Phone: (315) 438-3302

---
Southern Region
Bronx
Phone: (646) 424-5028

---
Long Island
Phone: (631) 962-1625

---
Jamaica
Phone: (646) 424-2707

Western Region
Buffalo
Phone: (716) 888-5693

---
Horseheads
Phone: (607) 763-3157

---
Rochester
Phone: (585) 783-5356

To request Honor Guard services for veterans of all other branches, please use the contact information below.
Air Force
Phone: (800) 531-5803
---
Marine Corps
Phone: (866) 826-3628

Navy
Phone: (202) 433-6892
---
Coast Guard
Phone: (617) 990-6249
Alt. Phone: (617) 519-7607
If you cannot contact the above numbers, call (716) 574-4431 for assistance.
For more information, email kimberly.s.carmody.ctr@mail.mil