Registration is currently open for the 2019 TAG Match, which will be held
Thursday, May 30 - Sunday, June 2.


See registration details below.
Each year Reserve Component Military Members from around New York State and Guardsmen from neighboring states participate in the Match.
This intensive, 3 day training event, hosts a series of matches in multiple disciplines to include rifle, pistol, and light machinegun. Mandatory small arms firing schools are conducted throughout Friday afternoon and evening, with one final class conducted Saturday morning prior to competitors reporting to the ranges.
The purpose of the TAG Match is two-fold:
To offer both the units and individual soldiers an opportunity to improve their marksmanship skills
To provide New York National Guard units an opportunity to be selected to represent the State of New York in national level competitions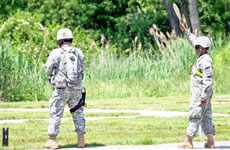 Competitors range in experience from the novice to the Distinguished Marksman. Regardless of marksmanship level, there is no better way to train to shoot live rounds down range under intense competitive conditions.
TAG Match 2019 Registration
EVENT DATE: Thursday, 30 May - Sunday, 2 June, 2019
EVENT LOCATION: Camp Smith Training Site (CSTS), Peekskill, New York map
HOW TO REGISTER: All individuals interested in competing in the contest need to submit the following forms to ng.ny.nyarng.list.nys-tag-match@mail.mil:
Photos from previous TAG Match events can be found here: 2017, 2018.
Urge your squad leader, section sergeant, and commander to let you shoot in this year's Combat Match!