embers of the New York Air and Army National Guard are now partnering with Airmen and Soldiers from half a world away. New York State and South African forces have been training together since 2003.
Feel free to browse SPP Events and read the SPP Information Paper for more details about the program or get acquainted with the program's leadership by visiting the SPP Leadership page
---
USARAF SPP TAG Conference, 7-8 Jan, 2015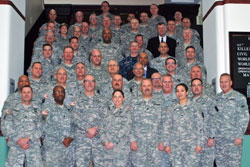 The New York National Guard, in conjunction with US Army Africa (USARAF) hosts the 2015 USARAF/SPP TAG Conference at the 1-69th Armory, 68 Lexington Avenue, NYC 7-8 January, 2015
The State Partnership Program is a way for American states to create positive relationships with many nations. Some recent events between New York State and South Africa include marksmanship competitions, the Deputy Adjutant General's visit to South Africa, and an Aviation Safety team event.
Read more about a medical conference where New York National Guard doctors drove over a live land mine and survived to tell the tale.
Learn here how an Air National Guard Chaplain helped design an insignia for the newly-created Swaziland Defence Force Chaplaincy Service, and see photos from this small African kingdom located between South Africa and Mozambique.
This July-August, 2003 Guard Times Magazine article has more information on New York's State Partnership Program.
To contact the Program Coordinator, MAJ Todd Balog:
Email todd.m.balog.mil@mail.mil or
Call (518) 786-6094 (DSN 489-6094)
To contact the State Partnership Operations NCOIC, SSG Thomas Myers:
Email thomas.l.myers.mil@mail.mil or
Call (518) 786-6083 (DSN 489-6083)
©
NYS DMNA
: NY National Guard South Africa Partnership
URL: http://dmna.ny.gov/spp/
Page Last Modified: 18 Nov 15