Insignia
how an Air National Guard Chaplain helped design an insignia
for the newly-created Swaziland Defence Force Chaplaincy Service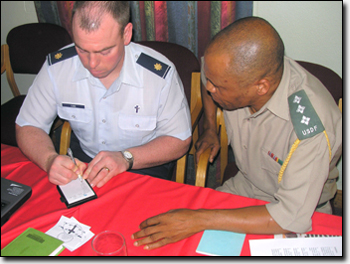 reating a nation's chaplaincy service from almost nothing is no easy task. The details are many: What qualifications must a military chaplain possess? What duties will he or she have? Can a chaplain serve both God and the military chain of command?
When the Kingdom of Swaziland decided to create their own military chaplaincy program, they sought help from the New York National Guard. A team of Guard chaplains visited this tiny African nation for a week in February 2007 to mentor and advise the Swazis on chaplaincy service policies.
One New Yorker on this team was Chaplain (Major) Todd Luce of the 109th Airlift Wing, NYANG. A mechanical engineer as well as a chaplain, CH Luce lent some unique talents to the project.
The Swazis wanted a distinctive insignia for their new chaplain's corps, one that kept the symbols of traditional Swaziland culture but which also reflected the nation's Christian heritage. It also had to be clear to anyone that this was a chaplain's badge. Chaplain Luce listened to his hosts' comments and then asked detailed questions. What is the Swazi royal crest? What symbol represents the military in your country? How do the Swazis use religious imagery?
He then began sketching.
Soon a design took shape. First came the three red feathers symbolizing King Mswati III, Ruler of Swaziland. Next, Luce drew the lehao, or traditional Swazi warrior's shield. On top of the Swazi shield came another type of shield, the Bible. Finally, Chaplain Luce placed a Christian cross on the insignia.
In ten minutes it was done - with a nod from Colonel G.G. Dlamini, Chief of Personnel for the Swazi military, the new chaplains' insignia was approved.
Chaplain Luce then arranged to take his sketch back to New York, where professional graphic artists will render the design on computer. The final product shall be turned into an insignia worn proudly by the first corps of chaplains to serve in the Swaziland Defense Force.
It's not often that a National Guard chaplain from New York has the chance to help bring to life another nation's chaplaincy service. Fortunately, Chaplain Todd Luce has both a careful ear and a talent for drawing. His contributions in Swaziland will be worn by that nation's military chaplains for many years to come.

©
NYS DMNA
: NY National Guard South Africa Partnership - NY ANG Chaplain helps design insignia for Swaziland Defence Force Chaplaincy Service
URL: http://dmna.ny.gov/spp/?id=ang_chap
Page Last Modified: 18 Jul 13