Below: FORT DRUM, NY: LTC B. Madikane, South African National Defence Forces, listens while MSG David Demarse of the NY-MATES describes his facility's spill containment procedures. LTC Mark Warnecke, who helped organize the Environmental Programs visits, looks on at right.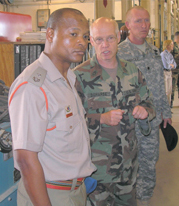 Photo by MAJ Pat Chaisson
---

Below: FORT DRUM, NY: CW5 George Scholl answers questions from COL S.K. Godschalk and LTC B. Madikane of the South African National Defence Forces Enviornmental Services office during their visit to the NY-MATES site at Fort Drum.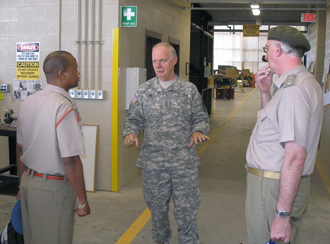 Photo by MAJ Pat Chaisson The South African officers toured the MATES facility recently as part of a State Partnership Program envionmental resources familiarization visit.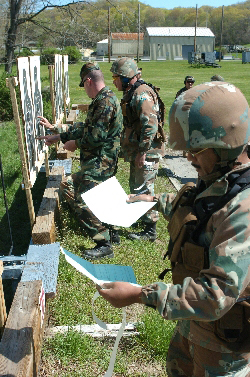 Left: New York Army National Guard Memebers and South African soldiers checking their scores on the 9mm range.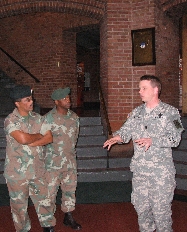 Left: Prior to their time on the firing line, South African Defence Forces soldiers visited New York Armories and Airbases. Captain Robert Mitchell of the 501st Explosives Ordnance Disposal Battalion hosts South African visitors at the Schenectady Armory.
---

Below: South African National Defence Forces tour Stratton ANGB, Scotia NY. LC-130H "Skibird" in the background.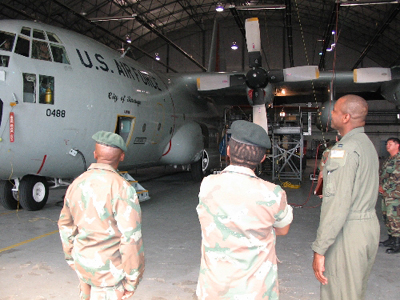 Below: The South African team included Maj. J.C. Oosthuizen (team coach), Lt/Col K.D. Williams, S/Sgt R.J. Sauls, Cpl S.K. Mkonto and Rfn S.F. Van Staden (South African abbreviations). The team achieved an overall first place in the rifle match, overall fourth place in the pistol match and a Combined Arms Team aggregrate of third place in the competition. Our South African friends can shoot!