2008-2009
Erie County Emergency Operations Center Tour - November 4, 2009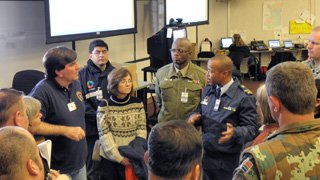 Photo by SGT Sean BaxterCheektowaga, NY: Brigadier General Ledwaba (right) speaks with Dan Neaverth of Erie County during a tour of the Erie County Emergency Operations Center November 4, 2009. The EOC is a central command and control facility responsible for carrying out the principles of emergency preparedness and emergency management, or disaster management functions at a strategic level in an emergency situation.
Vigilant Guard VIP Tour - November 4, 2009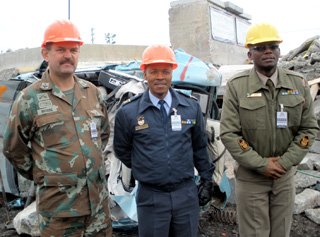 Photo by SGT Sean BaxterTonawanda, NY: Lieutenant Colonel Moore (left), Brigadier General Ledwaba (middle) and Warrant Officer Makhoba (right) take a break during the Vigilant Guard VIP tour to discuss the various rescue agencies working on the rubble pile November 4, 2009. The exercise was created to simulate a 5.9 magnitude earthquake in Buffalo, NY leading to a Defense Support of Civil Authorities request from New York State. Military forces and civilian first responders worked together during the 5 day event. Leaders from the South African National Defence Force got to tour all the venues during their visit, in order to develop a better understanding of military and civilian joint operations.
Training on the Convoy Skills Trainer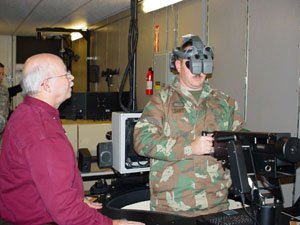 Virtual gunnery. South African Military Police Major Manie Smit takes aim at a computer-generated target using the Convoy Skills Trainer at Camp Smith, New York. Observing is Mr. Dennis Haynes, who manages all simulator training for the New York National Guard. Major Smit was part of a team of South African MPs who visited New York recently to share experiences on military police operations as part of the State Partnership Program between the Republic of South Africa and the New York National Guard.
South African Air Force Combat Cameramen Learn About the 109th AW Pole-to-Pole Mission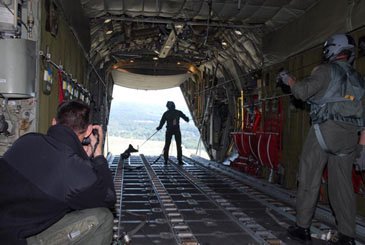 Aboard a New York Air National Guard LC-130H transport, South African Air Force combat cameraman Warrant Officer Christo Crous captures a cargo airdrop in action. Three South African military media professionals recently visited the 109th Airlift Wing, NYANG, to learn about the unit's unique pole-to-pole mission as the only ski-equipped C-130 unit in the US Air Force.
On the Range in South Africa