NY Deputy Adjutant General's visit to South Africa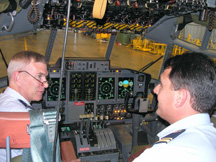 MG Knauf inside a South African C-130BZ's "glass" cockpit
orest fires. Terrorist threats. The challenges of deploying Reserve Forces to a peacekeeping operation far from home. These are just some of the issues the New York National Guard faces every day. As several of the state's senior leaders recently learned, these problems are not unique to the United States.
Major General Robert Knauff, Deputy Adjutant General- New York, recently paid a visit to the Republic of South Africa (RSA) as part of the National Guard's State Partnership Program (SPP). Accompanying MGen Knauff was Colonel Lawrence Ashley, Joint Chief of Staff, New York National Guard; Colonel Anthony Riscica, Director of Domestic Operations for the Joint Forces Headquarters, New York National Guard; and Major Patrick Chaisson, the NY State Partnership Program Coordinator. Major John Bradley, New York's Bilateral Affairs Officer stationed in RSA, also participated in this event.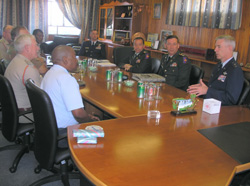 Deputy Adjutant General - New York MGen Robert Knauff (right) leads a disaster-preparedness meeting with the South African Joint Operations command in Pretoria, South Africa. Photo by MAJ Pat Chaisson
South Africa is scheduled to host the FIFA World Cup Soccer matches in 2010. During their vist to South Africa, MGen Knauff and his staff offered the New York National Guard's assistance and expertise. The New Yorkers also briefed key members of the South African National Defence Force (SANDF) on military support to civilian authorities.
By meeting with South African leaders the New York team learned much about the expanding role of reserve forces in South Africa, and also how that nation responds to domestic emergencies such as floods or wildfires.
New York and South Africa have been partners under the State Partnership Program since August 2003. New York was the first state to have an SPP association on the African continent, and our relationship continues to grow. There are many exciting events planned for the future check back often to learn more about this program!

©
NYS DMNA
: NY National Guard South Africa Partnership - NY Deputy Adjutant General's visit to South Africa
URL: http://dmna.ny.gov/spp/?id=savisit
Page Last Modified: 20 Nov 12