Forging New Partnerships
Adjutant General Travels to South Africa
By Maj. Richard J. Sloma
HQ, New York Army National Guard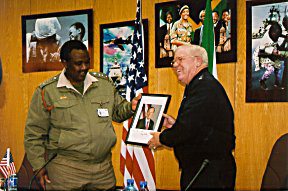 PRETORIA, SOUTH AFRICA - On August 22, 2003, The Adjutant General, Maj. Gen. Thomas P. Maguire, Jr., and Lt. Gen. Godfrey N. Ngwenya, South African National Defence Forces Chief of Joint Operations, exchanged flags and handshakes to initiate a relationship under the State Partnership Program (SPP).
The formal announcement ceremony was held at the Ministry of Defence in Pretoria, South Africa. The National Guard Bureau program currently has 37 states and territories in 40 partnerships across the globe. The partnership between New York and South Africa is the first such relationship on the African continent.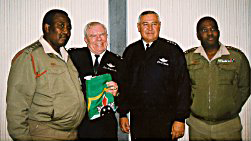 After exchanging flags, Maguire presented Lt. Gen. Ngwenya with a letter to South African Minister of Defence, Mr. Mosiuoa G. P. Lakota, a plaque, and an Adjutant General military coin. Also present were Gen. Charles F. Wald, Deputy Commander for United States European Command (USEUCOM) and Dr. Jendayi E. Frazer, Special Assistant to the President and Senior Director for African Affairs. The Republic of South Africa is a nation within USEUCOM's geographic area of responsibility.
Maguire was accompanied by Lt. Col. Timothy G. Vaughn, Executive Support Staff Officer, Headquarters New York Air National Guard, Lt. Col. James M. Gaudio, New York Army National Guard Chief of Staff, and Lt. Col. David Martinez, the New York SPP Coordinator.
Maguire had the opportunity to meet with United States Ambassador Cameron R. Hume, Defense and Air Attachi Colonel Clarence D. Smith, Jr., and Office of Defense Cooperation (ODC) Chief Lt. Col. Samuel K. Millett. During the ceremony, Gen. Wald spoke of the characteristics of New York State and the Republic of South Africa that make the partnership a good match. Maj. Gen. Maguire emphasized the strengths that members of the National Guard bring to the partnership. "Soldiers and airmen from the New York National Guard bring with them unique skills that they carry over to their military positions from their civilian jobs," Maguire said.
The National Guard SPP began in 1992 in the Baltic Nations as a joint engagement effort between USEUCOM and the National Guard Bureau (NGB) with the intent to assist former Warsaw Pact nations in their transition from communist governments to democratic governments.
The SPP links a State National Guard with a partner nation to support mutual security cooperation objectives. The program highlights the role of the National Guard as an all-volunteer, professional military with dual missions to support the nation and the state. The unique civil-military nature of the National Guard enables it to interact with both active and reserve forces of the foreign nation, as well as civilian governmental agencies of that nation. SPP activities range from bilateral military to military events to military to civilian events and even civilian to civilian events. The range of activities conducted is developed by the State National Guard and their host nation counterpart and are focused on Combatant Commanders and US Government (USG) objectives. The broad range of activities possible within a partnership reflects the unique flexibility of the National Guard to respond to partner nation requirements.
Partner states typically expand to eventually include civilians and civilian agency participation in partnership activities where appropriate so as to help develop relationships between partners beyond just military relationships to all levels of society.
A long-term goal is for partnerships to mature as security cooperation activities assist the host nations in becoming full members in the community of nations. The SPP is also an important security cooperation activity, particularly in the Global War on Terrorism.
Excerpted from Guard Times magazine