Soldiers salute new commander

RONKONKOMOA, New York--New York Army National Guard Soldiers stand in formation during the 3rd Battalion, 142nd Assault Helicopter Regiment change of command ceremony on October 17, 2020 at the Ronkonkoma Army Aviation Support Facility in Long Island New York on October 17th. During the ceremony Lt. Col. Matthias Greene assumed command of the battalion from Lt. Col. Jason Lefton.
Oct 19, 2020
Troops respond to Herkimer storm

Soldiers assigned to the New York Army National Guard's 3rd Battalion 142nd Aviation remove debris from a road in Herkimer County on Nov. 2, 2019. The battalion deployed a general purpose response force to the county as part of the 200 Soldiers and Airmen the New York National Guard deployed on the orders of Gov. Andrew M. Cuomo to aid the county in recovery from a major storm that hit on night of October 31/ November 1.
Nov 04, 2019
LI Aircrews Dedicate 'Huey' Monument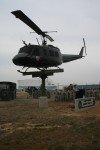 RONKONKOMA - New York Army National Guard Soldiers dedicate a UH-1H "Huey" Helicopter outside the Army Aviation Support Facility Number 1 at Islip-MacArthur Airport here Nov. 10. The ceremony, held on the eve of Veteran's Day, commemorated the service of National Guard aircrews past, present and future with members of the 42nd Infantry Division Assoc. present for the event. The Huey was placed outside the flight facility earlier this spring in order to be present for the redeployment of the Soldiers from the 3rd Battalion (Assault Helicopter), 142nd Aviation Regiment, 42nd Combat Aviation Brigade home from Iraq after a yearlong deployment. "For 39 years, people have driven past MacArthur without knowing that the Guard was here," said retired Brig. Gen. Ray Doyle, former commander of the aviation brigade. "Now, there's no doubt about it."
Nov 10, 2009