Story by: Spc. Jim Bedgood - 42nd Infantry Division Public Affairs
Dated: Tue, Jan 1, 2008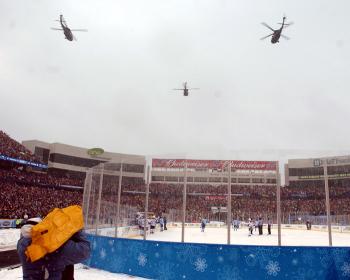 Soldiers of the New York Army National Guard along with Airmen and Marines were honored during the military appreciation pre-game show between the Buffalo Sabres and Pittsburgh Penguins January 1st, 2008. 60 troops unfurled a 60' x 30' flag while 3 UH-60 Blackhawk helicopters from the New York National Guard performed a flyover prior to the New Year's Day game. Over 70,000 fans packed the stadium and it was clear by their cheers that the Armed Forces were their favorite team during the ceremony. Photo by SFC Peter Towse, 42nd ID Public Affairs
---
BUFFALO -- Soldiers of the New York Army National Guard along with active Army Soldiers, Airmen, Marines and Coast Guard personnel were honored during the National Hockey League Winter Classic pre-game show between the Buffalo Sabres and Pittsburgh Penguins at the Ralph Wilson Stadium here January 1st, 2008.
Citizen Soldiers of the Army National Guard's Company A, 27th Brigade Special Troops Battalion (BSTB) in Lockport, N.Y. made up part of the 60 troops chosen to unfurl a 60' x 30' flag while three UH-60 Blackhawk helicopters from the New York Army National Guard's 3rd Battalion, 142nd Aviation Regiment performed a flyover prior to the New Year's Day game.
Over 71,000 fans packed the stadium and it was clear by their cheers that the Armed Forces were their favorite team during the ceremony.
"We were selected to participate in the event for our excellence in service," said Spc. James Gross, a combat engineer with Company A and former New York State Soldier of the Year. "In honor of those who served our country, a U.S. flag was unfurled across the field by the Army National Guard, active Army, Navy, Air Force, Marine Corps and Coast Guard."
The chilling 30-degree Buffalo weather didn't put a freeze on attendance at the event. The game was the first NHL game played outdoors in the U.S. and drew the second largest audience ever for an afternoon NHL game.
"It was great being a part of the event, hearing 71,000 people singing God Bless America while holding that flag was very inspirational," said Sgt. Kevin Krantz, a personnel administrator with the 27th BSTB. "It was definitely a once in a lifetime experience."