New York's 27th Surges toward Federal Mobilization for Afghanistan
Story by: Lt. Col. Paul Fanning - Combined Joint Task Force Phoenix VII
Dated: Fri, Oct 26, 2007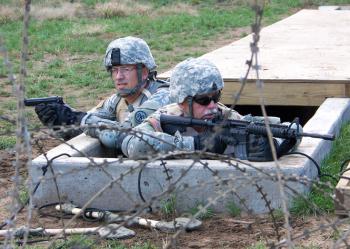 Colonel Randall Lambrecht and Master Sergeant Joseph O'Leary provide security for their team mates in preparation to cross a concertina wire obstacle during their pre-deployment training at Ft. Drum, NY Oct. 10, 2007. Photo by Maj. Cathy Oliver, 27th BCT.
---
FORT DRUM -- Nearly 1300 Soldiers of the 27th Brigade Combat Team, plus hundreds of additional training support personnel, completed an intensive three-week training period Oct. 26 to prepare for a deployment to Afghanistan.
The brigade, comprised of Soldiers from around New York, completed a similar training period at Fort Drum in June. The brigade's headquarters is in Syracuse.
After deploying to Afghanistan in early 2008, the 27th will take command of Combined Joint Task Force Phoenix VII, which has the mission of training the Afghan National Army and Afghan National Police.
Six National Guard brigades have conducted this mission since it began in 2002. Presently, the South Carolina Army National Guard's 218th Brigade is in theater having taken over from the Oregon Guard's 41st Brigade in May.
Special Mission -- Special Team
The 27th will deploy 1700 members of the New York Army National Guard for this mission. The task force has been specially organized for the mission, resulting in the reassignment of Soldiers from other units across the state.
The TF Phoenix force in theater comprises nearly 7,000 military and civilian personnel from active duty, Guard and reserve American forces, plus troops from NATO nations including Great Britain, Canada, Germany, Italy, Spain, France and others.
Two hundred task force personnel are already training at their Fort Bragg, North Carolina mobilization station and will deploy before the bulk of the brigade. Five platoons from 2nd Battalion 108th Infantry and 1st Battalion 69th Infantry were tapped to serve as a Security Force Company and were called in advance of the main force.
"I believe this is the absolute best brigade in the Army," said Col. Brian Balfe, 27th commander at a first-ever brigade prayer breakfast held two days before the end of the training. "I realize how far we have come in a very short time," he said. "For the last six months we have been preparing ourselves physically, mentally -- developing our Soldier Craft so we will be able to train, mentor and sometimes lead the Afghan National Army and Police," he said.
"And, we are each taking the time to prepare ourselves for this mission in whatever way seems right to us," he added. "I am taking this time to reflect on family, friends and I consider every member of the brigade a member of my family. I wouldn't be here if it were not for you," he said.
Intense Training
During the Oct. 6 to 26 training period the Soldiers focused on individual skills which must be validated prior to deployment.
Every duty day lasted beyond 16 hours. To meet pre-mobilization goals, emphasis has been placed on completing key individual objectives ranging from briefings, warrior tasks and weapons qualifications. Time was the resource in shortest supply.
Other Soldiers trained at required Army service schools.
Non-deploying personnel of the 27th comprise Task Force Orion and ran much of the training at Fort Drum and provided critical support in conjunction with the Rainbow Division's 42nd Training and Evaluation Battalion.
Troops completed dozens of individual and warrior tasks during the period. Hundreds of troops underwent special training, some of which included the use of electronic simulation systems. The Call for Fire Trainer, GUARDFIST, the Humvee Egress Assistance Trainer (HEAT), the Electronic Skills Trainer 2000 and the Virtual Combat Convoy Trainer (VCCT) were used to help teach Soldiers critical skills needed for the combat theater.
More than 150 Soldiers completed the four-day Combat Life Saver course and 300 completed three days of training on the Blue Force Tracker system.
Units rotated out to the field to conduct day and night live fire for both the M4A1 Rifle and M9 Pistol. Members of the 101st Cavalry and the 427th Brigade Support Battalion trained in convoy and tactical movement.
Three days before the end of the tour, the brigade executed a 4 and half mile formation march with each Soldier outfitted with their helmet, body armor and weapon. It began at 5 a.m. and lasted past 6:15 in the dark and in a light but steady rain. Troops cleaned up, ate chow and got back in the training.
Following federal call up in January 2008, the 27th will undergo additional post-mobilization training to complete its preparations and validation for deployment to the combat theater. Nearly two months of such training has already been planned.
"We are preparing for the combat zone in deliberate steps," said Command Sergeant Major David Piwowarski, the brigade's senior non-commissioned officer. A key part of his job is to ensure standards are met, discipline is sustained and to advise and assist the commander with the challenge of preparing the task force for war. "This is a good team with an important mission but with a distance to go still ahead," he said. "We must and will keep our focus and we will build in our intensity with each step forward. We haven't reached peak yet, but we will," he added.
Soldiers were also issued the latest in equipment and clothing through the Army's Rapid Fielding Initiative program.
Special Education and Guidance
Special presentations were made to officers and non commissioned officers through the Leadership Development and Education for Sustained Peace program. A retired U.S. State Department ambassador, a first secretary from the Afghan Embassy in Washington, D.C., retired military leaders from the U.S., Canada and Great Britain and other subject matter experts delivered executive seminars to an attentive audience that packed the After Action Review room and spilled over to another classroom.
Subjects included Afghan history, culture, religion, the drug trade, the Taliban and other topics. Leaders from the Oregon Guard's 41st Brigade and the South Carolina's 218th Brigade presently in Afghanistan delivered special presentations focused on the mission and the latest developments on the ground.