Story by: Eric Durr - NYS Director of Public Affairs
Dated: Fri, Sep 14, 2007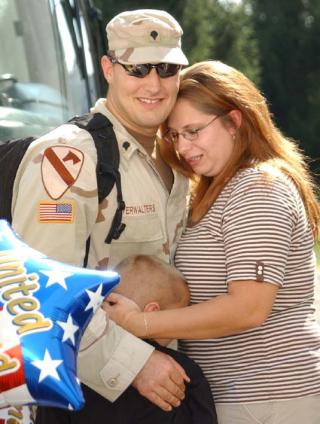 Soldiers and Airmen in combat know the value of checklists in preparing for combat, Guard families need a checklist too. As the nation recognizes September as Emergency Preparedness Month get your family ready for the next local emergency.
---
Soldiers and Airmen know the value of readiness in combat. The New York State Office of Homeland Security wants us to think about the importance of readiness at home as well.
To mark September as National Preparedness Month, New York's Deputy Secretary for Public Safety is urging members of the New York National Guard to make sure that their home and family are ready for emergencies of all kinds.
The Homeland Security Office's "Aware Prepare" website provides easy tips for Guard members to use in preparing their families for emergency situations. For Guard members who may also be called upon to help their state and community in an emergency, it's especially important that you leave your family well prepared to cope in your absence.
The three steps to emergency preparedness are:
Develop a Family Emergency Plan: Put together a plan that your family will follow in case of emergency of natural disasters. The plan should identify ways the family will get in touch with each other, an out-of-town friend or family member as an emergency "check-in" contact and places to meet outside the home if necessary. The emergency planning should also include determining how to escape the house during a fire or other emergency and keeping records safeguarded.
Stock up on Emergency Supplies: Ensure that you have enough food and water on hand for three days.It takes at least one gallon of bottled water per person , per day to have enough. Make sure that you have canned food and staples that will keep if the power goes off. Ensure that you have flashlights and battery lanterns. Avoid candles. They are fire hazards. It's also important to have first aid kit and prescription medications available.
Be Aware: Just as a Soldier in the field maintains Situational Awareness, you need to be aware of potential emergencies. Make sure to watch or read the weather report daily to prepare for snowstorms, hurricanes, or thunderstorms and tornados. Don't change channels when a weather alert comes on. Look for something unusual or out of the ordinary that might indicate terrorist activity.
For more information on emergency preparedness and safety visit the "Aware Prepare" website.