Story by: Sgt. 1st Class Steven Petibone - 42nd Aviation Public Affairs
Dated: Fri, Aug 31, 2007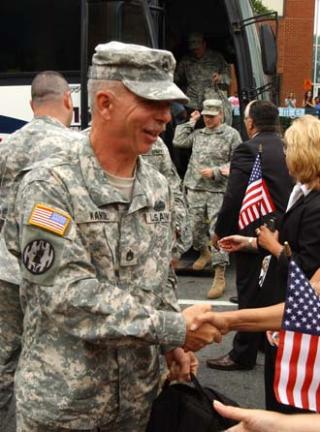 Staff Sergeant Philip Kandl receives a warm welcome from Mr. Bill Steinhous and other members of the Dutchess County Executives office as he and other Soldiers get off the bus at their Poughkeepsie armory after serving 15 months of active duty in Iraq supporting Operation Iraqi Freedom. Photo by Steven Petibone, 42nd Combat Aviation Brigade
---
POUGHKEEPSIE -- Sirens wailed and families shouted cheers at the sight of the chartered bus that brought 40 Soldiers of the 727th Military Police Liaison Detachment home on Aug. 31.
The 727th, a Law and Order MP detachment that supports higher headquarters, returned to their home armory after being deployed to the Victory Base Complex in Baghdad, Iraq for about one year. The Soldiers spent three months training before their deployment.
"It was a very long year and lots of hours spent training and working, but we knew that what we were there doing was making a difference." said Capt. Robert Lange, commander, 727th Military Police Liaison Detachment. "After we arrived and got our bearing on the mission, we were confident in our abilities to get the job done."
The 727th mobilized in June of 2006 to Fort Dix, where the military police Soldiers spent three months training to collectively perform their law and order mission.
In September of 2006 the unit deployed to the Central Command area of operations in Iraq, conducting a two-week theater immersion training and equipment staging in Kuwait. The Soldiers arrived later that month at the Victory Base Complex, Baghdad.
Some of their other missions included tasking four Soldiers to support the Multi National Corps-Iraq Commander's personnel security detachment, providing the MNC-I's customs manager and one allocating senior Military Police Investigator to the Corps Forensic Lab. That lab was dubbed "CSI Baghdad."
The unit supervised and executed law and order road patrols and force protection missions on the Victory Base Complex that facilitates more than 50,000 coalition personnel.
"It was a great deployment overall and that meant a lot because our Soldiers were working in an environment that they had never worked in before." said Master Sgt. Marco Salcedo, senior NCO, 727th Military Police Liaison Detachment.
Before being officially released from their federal mobilization the 727th was addressed by Dutchess County Executive Bill Steinhous. Steinhous was presented with the Dutchess County flag that he had sent to the 727th while they were serving in Iraq. The flag flew over the units Victory Base headquarters.
"It is my privilege to return the county flag in good condition, just a little dirtier." Said Lange as he handed it to Steinhous.