Story by: SFC Peter Towse - 42nd Infantry Division Public Affairs
Dated: Sat, Aug 11, 2007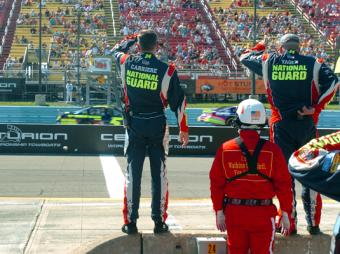 Casey Mears (No. 5) drives by pit row at over 100mph as his pit crew watch on during the Busch Series Zippo 200 race at the Watkins Glen International Raceway August 11th, 2007. The car was painted with the historic 42nd Infantry Division Rainbow patch in honor of those who have served. Photo by: SFC Peter Towse - 42nd ID Public Affairs
---
WATKINS GLEN, N.Y. -- In a ceremony to honor New York Army National Guard Soldiers who have recently deployed, the 42nd Infantry Division was recognized here during the NASCAR Busch Series Zippo 200 race at the Watkins Glen International Raceway August 11th, 2007.
The unit's historic Rainbow patch was painted on the red, white and blue No. 5 National Guard Chevy car, driven by Casey Mears. The National Guard racing team honors local units each time the NASCAR racing tour visits a different state.
"We want to recognize and show our appreciation for the selfless service of these Soldiers," said Sgt. Francisco Golon of the National Guard Bureau NASCAR Team. "If we had the opportunity to thank all 350,000 National Guard Soldiers by taking them to a NASCAR race, we would."
The 25 Soldiers recognized at the race on Saturday were comprised of New York Army National Guardsmen and women chosen from a variety of guard units around the state. Many of these Soldiers have recently served their country in Iraq in defense of the War on Terror during Operation Iraqi Freedom as well as some of the Guard's newest members to join the military family.
Casey Mears, the driver of the National Guard NASCAR, gets in his car before the Busch Series Zippo 200 race at the Watkins Glen International Raceway August 11th, 2007. Casey finished 8th in the race after starting in position 19 making it the 12th top 10 placement for the National Guard NASCAR Team. The car was painted with the historic 42nd Infantry Division Rainbow patch in honor of those who have served. Photo by: SFC Peter Towse - 42nd ID Public Affairs Mears started the race in the 19th position, but charged to finish eighth making this finish the 12th top 10 placing for the National Guard Racing Team.
The 42nd Infantry Division was born August 5th, 1917 and has continued through the decades as an "always ready" force from the front lines in France in WWI to Ground Zero in New York City on September 11th to the desert of Iraq during Operation Iraqi Freedom. The Rainbow patch was created out of strips of felt on squares of brown wool uniform cloth during WWI and the three primary colors of red, gold and blue were selected. Seamstresses on Long Island and later in France were kept busy throughout WWI sewing the patches.