New York National Guard Participates in Multi State Hurricane Exercise
Story by: Lt. Col. Paul Fanning - JFHQ Public Affairs Officer, NY Army National Guard
Dated: Fri, May 4, 2007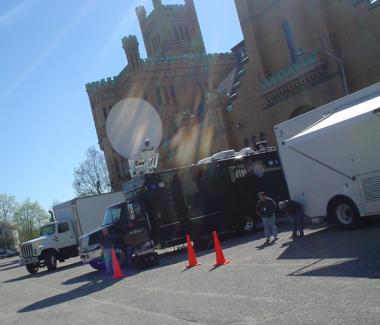 Support vehicles from state and federal emergency response agencies partnered with members of the National Guard and Northern Command's ARNORTH during the hurricane response exercise Ardent Sentry from May 1-4, 2007 in Providence, Rhode Island. Courtesy photo
---
NEWPORT, RHODE ISLAND -- New York National Guard military support and emergency response planners recently participated in a special joint, multi-state hurricane response exercise designed to improve both civilian and military capabilities in the event of a future disaster.
Hurricane Exercise, or "HURREX," is the National Guard's support to the Federal Emergency Management Agency's (FEMA) 2007 hurricane preparedness exercise series.
With the hurricane season beginning on 1 June, the New York National Guard is actively preparing to respond as it always has, to emergencies at home or elsewhere in our nation. Nationally, the Guard uses exercises like these to test and ensure it is even more capable and more ready than when 50,000 Citizen-Soldiers and --Airmen from across the nation including New York saved more than 17,000 lives in response to Hurricanes Katrina and Rita in 2005.
Participation in the exercise came within a month of the New York National Guard's lean forward and response efforts following the Nor'easter which struck the region in April. Over the last year, the New York National Guard responded to floods along the southern Tier last June, a pre-season snow storm in Buffalo last Fall and a Blizzard in Oswego County in February.
In this recently completed HURREX, a simulated Category Three Hurricane dubbed "Yvette" struck Newport, RI. An 11-day Command Post Exercise was used to train command staff, and subordinate and supporting leaders in order to successfully plan, coordinate, and synchronize emergency response.
No National Guard members were actually deployed; however, seven New England states including New York and the National Guard Bureau were engaged to enhance the emergency response capabilities and coordination of all first responders by using simulations. The joint exercise included participants from local, state and federal agencies, the Department of Defense, FEMA (Regions I and II), and the Department of Homeland Security.
Members of the New York National Guard's Joint Forces Headquarters established and operated a Joint Operations Center and provided notional reports to New York's State Emergency Management Office SEMO, replicating a domestic emergency response to Suffolk County in the aftermath of the simulated Category Three Hurricane.
The New York National Guard also provided liaison teams to the Joint Field Office in Rhode Island and SEMO's Incident Management Assistance Team in Suffolk County, as per domestic emergency response plans. The integration of these liaison teams facilitated interagency coordination.
In addition, the New York National Guard provided a Joint Incident Site Communications Capability (JISCC) System to facilitate interagency communications. Soldiers from the NYARNG successfully tested the JISCC System with SEMO communications assets across all the different forms of emergency communications.
The team from the New York National Guard was also a key participant in the Unified Command Cell in Suffolk County that had leaders from all levels of government (townships, counties, State and Federal). The interagency cooperation was a significant step forward to address lessons learned from Hurricane Katrina.
For purposes of the exercise, 900 New York Army and Air National Guard personnel were notionally employed to support disaster relief operations in Suffolk County. Simulated missions were search and rescue, emergency debris removal, augmentation to law enforcement, and emergency logistics and civilian transportation.
The HURREX" gave both civilian first response agencies and the National Guard -- the first military responder - an opportunity to participate in a full range of training scenarios designed to better prepare all participants to respond to a local, state and/or national crises. The National Guard exercises along with state and civil authorities to better improve the unity of effort between all first response agencies in the event of a disaster. The unity of effort established by exercises like these better equips civilian and military entities to operate seamlessly in a joint environment.