Joint Task Forces in New York used to speed, tailor support
Story by: Guard Times Staff -
Dated: Tue, Apr 17, 2007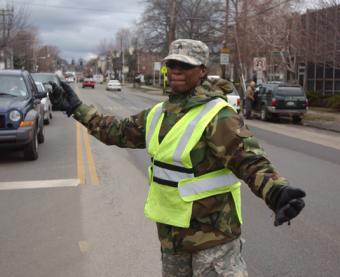 SGT Tracy Ann Stewart, an Army National Guard Soldier from the 101st Signal Batallion, based in Yonkers, NY conducts a traffic control point in Mamaroneck, NY after severe flooding knocked out power to the area on April 17, 2007. Photo by: SPC Dennis Gravelle
---
JOINT FORCE HEADQUARTERS, NEW YORK NATIONAL GUARD, LATHAM - A record-breaking nor'easter was the backdrop for the alert and mobilization of large numbers of New York National Guard personnel aligned under three geographically separate Joint Task Forces in mid April.
New York Governor Eliot Spitzer alerted more than 3,000 New York Army and Air National Guard members on Friday 13 April as a major storm threatening heavy snow fall, rain and winds moved up the East Coast. By Sunday, hundreds of Guard troops had been pre-positioned at armories in New York City, on Long Island, in the Hudson Valley and in other upstate regions. Nearly a dozen different New York Counties faced the potential of serious damage due to floods, power outages and extreme weather that ultimately struck the region on Sunday April 15th.
"Here in New York, the National Guard approach to state emergency response is a forward-leaning proactive one," said Maj. Gen. Joseph J. Taluto, The Adjutant General. "In order for us to bring the full spectrum of our capabilities to bear for our civilian customers, we work with them early on to evaluate and anticipate their requirements. That open communication and early engagement allows us to customize our response, prepare our force and pre-position our assets where they are likely to be most needed and do the most good."
In response to the Governor's order, the New York National Guard implemented its statewide contingency operations plans and stood up Joint Task Force headquarters in Staten Island, Long Island and the Hudson Valley. These task forces were tied to the state headquarters Joint Operation Center in Latham for command, control and communication, and each sent liaison officers to county and municipal Emergency Operation Centers in their Area of Responsibilities to quickly coordinate support.
Specific Guard units were ordered to duty before the storm was impacting and readied for rapid deployment to provide emergency transportation and evacuation support, logistical support and support to law enforcement as directed by the State Emergency Management Office in response to requirements identified at the local levels.
Hudson Valley counties including Westchester, Putnam, Orange and Dutchess declared emergency conditions due to localized floods that forced residents from their homes, road closures and fallen tree limbs and debris knocked out power lines. In the Westchester County town of Mamaroneck, members of Company B, 101st Signal Battalion transported local firefighters to a fire scene through flooded streets aboard 2 ton trucks.
Fire department trucks and police department cruisers proved inadequate for the deep water that closed many streets, according to 1st Lt. Peter Villahoz, Company B, 101st Signal Battalion, Yonkers.
"We were forging through six feet of water and they were getting stuck," said Villahoz.
"We started pulling civilians out of specific locations around town. We had houses that were burning and houses that were partially collapsing. We assisted the police department, the police scuba team, search and rescue teams and the fire department using our deuce-and-a-halves so they could get through," he explained.
According to Sgt. 1st Class Duane Martin, members of Company B were eager to help the community even though they had spent the entire weekend performing drill. When a call came for volunteers, troops leapt forward, he said.
"They jumped right into it and did a great job. We're tired, the vehicles, the routes we had to travel, no incidents... It was funny too, because we just all finished taking the incident avoidance course, and it proved fundamental. It was all very good," said Martin.
As the day progressed, troops began operating traffic control points to seal off roads that had been flooded, thus preventing residents from driving into trouble.
Maj. General Taluto remarked that although the meteorological predictions of extensive severe damage from coastal surge and devastating flooding didn't materialize, the Guard's robust response and early preparation were necessary and appropriate.
"Fortunately, in this instance the damage wasn't as widespread as originally feared, and our readiness posture exceeded eventual mission requirements; when you're dealing with a threat as difficult to predict as the weather, that is going to happen," he said. "But when it's human lives that are potentially at stake, vigilance is the only responsible course of action and being caught under-prepared is simply not an option," Taluto said.
"Each time we exercise our response plan hones our ability to respond quickly and efficiently when New Yorkers need our help and the Governor calls on us to provide it," said Maj. Gen. Taluto.