105th Airlift Wing Employs Giant C-5A Aircraft to Move Equipment to Greenland
Story by: Capt. Patrick Cordova - 105th Airlift Wing, PAO
Dated: Tue, Apr 29, 2008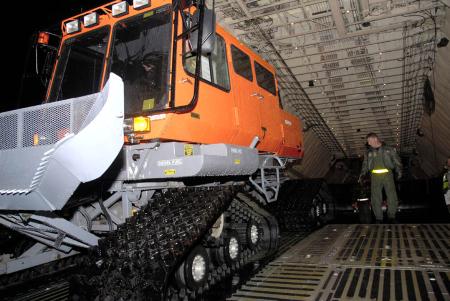 Members of the 105th Airlift Wing's Aerial Port Squadron and 137th Loadmasters upload a fuel tank onto a C-5A Galaxy. The fuel tank will be used in support of U.S. National Science Foundation operations based in Greenland. NY Air National Guard Photo by Capt. Patrick Cordova (Released)
---
Members of the 105th Airlift Wing's Aerial Port squadron loaded supplies and equipment into a C-5A "Galaxy" in support of a National Science Foundation (NSF) mission to Greenland earlier this morning,
The NSF's is seeking to find new and improved means of supplying Summit Station, an NSF research platform at the summit of the Greenland ice sheet that currently must be accessed by ski-equipped aircraft.
Some of the equipment that is being transported via C-5 to Greenland includes snowmobiles, radar equipped robots (for detecting crevasses under the ice), a Tucker-Terra Series 1600 Sno-Cat, and a 60 ton Case International Harvester Quadtrack Tractor.
The 105th Airlift Wing is one of two Air National Guard units in the country with an operational C-5 mission. The unit's 13 aircraft regularly fly missions around the world in support of America's armed forces. Stewart Air National Guard Base is located just 70 miles north of New York City and has a 20-year proven track record for answering the call to duty both in New York State and around the globe. The Wing has more than 1,500 assigned members, many of them still involved in the Global War on Terrorism and Homeland Defense operations.