106th Regional Training Institute Soldiers Recognized at Freedom Salute
Story by: Pvt. Rachel Sanzo - 42nd Infantry Division
Dated: Tue, May 5, 2009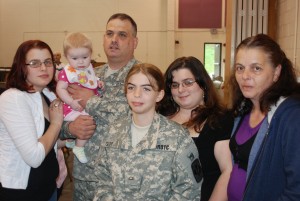 Master Sgt. Philip Giordano, pictured with his family, just returned from Afghanistan and was recognized at the 106th RTI Freedom Salute Ceremony at the Camp Smith Training Site.
---
CAMP SMITH -- Citizen Soldiers from the New York Army National Guard celebrated their return from service overseas supporting Operation Iraqi Freedom with family and community during their Freedom Salute.
Soldiers of the 106th Regional Training Institute Fwd 2 and Training Assistance Group 1100 from Camp Smith in Peekskill, New York were honored and recognized for their faithful service overseas on May 2, 2009 during a Freedom Salute Award Ceremony, which is part of the New York National Guard's new reintegration program.
The Freedom Salute Award, sponsored by the National Guard Bureau, is a dedication to the Soldiers, families, and employers of Soldiers in units deployed in support of Operations Enduring Freedom, Iraqi Freedom and Noble Eagle.
During their deployment, Soldiers of the 106th RTI and TAG 1100 worked at the Kabul Military Training Center (KMTC) to provide training and assistance to close to 30,000 soldiers of the Afghan army.
"Afghan soldiers attend the Kabul Military Training Center and go through the equivalent of Basic Combat Training, NCO development training, and Officer Candidate School. We want to make sure these soldiers are being properly trained," said Col. Mark Heffner, commander of the 106th RTI.
"This deployment was different than my previous deployments due to the Army's new reintegration program, which helps to ease returning Soldiers back into life with their family, friends, and employers," said Col. Mark Heffner who has been deployed a total of three times since 2004.
Soldiers like Master Sgt. Philip Giordano, 106th RTI, Camp Smith, NY were part of the police mentorship at KMTC Police Headquarters, where they helped train the Afghan military to become better soldiers and leaders for their upcoming roles that they will have in their country's fight for freedom. While in Afghanistan, however, Giordano missed the birth of his first grandchild.
"When I returned home, seeing my granddaughter was the best gift of all," said Giordano.
Relief was the common feeling between Giordano and wife Kathleen upon returning home.
"Having my husband deployed, was the first time in 22 years that he's been away from his family for such a long time," said Kathleen, "It was definitely a relief to have him home."
"Overall, it's been a positive experience returning home to our families. It's definitely hard to get back in the swing of things, but all the Soldiers returning home are part of a very tight knit group. We keep in communication with each other to make sure that we're all comfortable with the reintegration process," said Heffner.
To commemorate their service to our country, each Soldier was presented an encased U.S. flag, a sequentially numbered, limited edition National Guard coin and a "Defender of Freedom" certificate of appreciation.
In addition, the Soldiers and their spouses exchanged lapel pins recognizing both the support and incredible sacrifice of the other.
Even the youngest members of the Soldiers' families were recognized for their sacrifices, receiving Future Soldier Footlocker Kits; filled with a board game, trading cards and other activities.
Brigadier General Paul Genereaux, 42nd Infantry Division Commander, welcomed the Soldiers home and thanked their families for the sacrifices they made while their loved ones were deployed.
"As Soldiers, your job does not end when you return home. You are always a Soldier and taking care of your battle buddy is still a priority. You need to watch out for each other," said Genereaux.