Vice President's Wife Discusses Guard "Yellow Ribbon" Program
Story by: Mr. Eric Durr - DMNA Public Affairs
Dated: Mon, Sep 21, 2009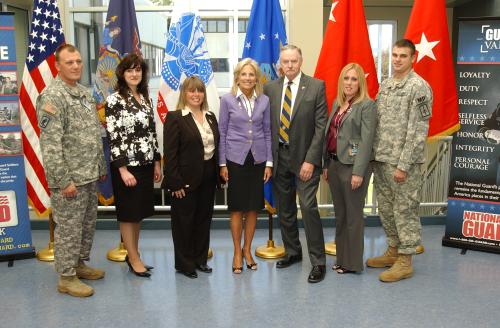 Family members and Rear Detachment Soldiers of the 206th Military Police Company, headquartered in Latham, NY, pose with Dr. Jill Biden, wife of Vice President Joseph Biden on Monday, Sept. 21, during a meeting at New York National Guard headquarters. Pictured are (from) left Sgt. Derreck Venne; Theresa Martel, wife of 206th MP Company 1st Sgt. Joseph Martel; Mary Lou Herringshaw, wife of Sgt. 1st Class Frederick Herringshaw; Dr. Biden; Family Readiness Group lead volunteer Gordon Lattey; Kim Manion, wife of Capt. Kevin Manion; and 2LT Stephen Groene, rear detachment commander Photo by Sgt. First Class Steven Petibone, 42nd Combat Aviation Bde. (Released).
---
Dr. Jill Biden, the wife of Vice President Joseph Biden met with Major General Joseph Taluto, the Adjutant General of New York; family members of deployed National Guard Soldiers; and professionals who support the New York National Guard's Family Program, following her appearance with President Barak Obama at Hudson Valley Community College in Troy on Monday, Sept. 21. Dr. Biden's son Joseph "Beau" Biden III, is a Captain in the Delaware Army National Guard and is currently deployed in Iraq. Biden has made support for the families of National Guard and Reserve members one of her issues. She took advantage of her visit to the Capital Region with the president to find out more about the New York Army National Guard's Yellow Ribbon Reintegration Program-which helps returning Soldiers fit back into civilian life-and family support for New York National Guard Soldiers. "I have talked to hundreds of service members and families in my travels around the country and I have listened to their concerns. As a military mom this is personal to me too -- and I am doing as much as I can to raise awareness of the special challenges that Guard members and their families face. I hope to encourage more Americans to think about how they can show appreciation for our military families," she said. "I enjoyed learning more today about the New York National Guard's reintegration programs and the critical ways the Guard is working to better support our soldiers and their families before, during and after deployments."
Following a meeting with professionals who administer the New York National Guard's Family Program, Dr. Biden met with family members of Soldiers in the 206th Military Police Company, headquartered in Latham, who are currently deployed in Basra, Iraq. She also met briefly with members of the 3rd Battalion 142nd Aviation who recently returned from deployment in Iraq.
News Story: Dr. Jill Biden Visits New York National Guard Soldiers and Families