Story by: SSG Dennis Gravelle - 369th Sustainment Brigade
Dated: Wed, Nov 4, 2009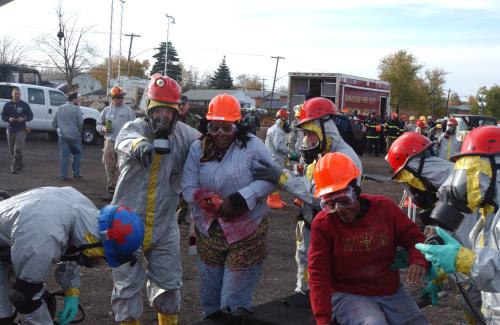 Members of the New York National Guard's CERFP move simulated disaster victims away from the incident site in Tonawanda as Exercise Vigilant Guard moved into high gear on Nov. 2, 2009. Photo by Staff Sgt. Dennis Gravelle, 369th Sustainment Bde.
---
The largest military/civilian disaster response exercise ever held in New York brought more than 1,300 troops from five states to the Niagara Frontier the first week of November, 2009.
The drill, part of the Vigilant Guard exercise series run by United States Northern Command and National Guard Bureau, gives National Guard Forces the chance to practice emergency response operations with local, state, regional and federal partners against both natural disasters and terrorist attack.
"Vigilant Guard is an opportunity for military and civilian professionals to train together and prepare for a potential catastrophe we all naturally hope will never happen," said Brig. Gen Michael Swezey, commander of the Guard's Joint Task Force 6. "This exercise was developed from lessons learned from the terrorist attacks on 9-11 and from Hurricane Katrina."
In the exercise scenario an earthquake measuring 5.9 on the Richter Scale hit near the City of Buffalo on Oct 30, at 2pm. The earthquake casued tremendous damage to the urban core of Buffalo, Erie County and southern Niagara County. The National Guard was called out by the Governor to support the local emergency responders.
"Governor Patterson understands as much as any of us how important it is that we all work together to become prepared, to be able to respond to any emergency, to any disaster that we face here in New York State," said Denise O'Donnell, the state's deputy secretary for public safety.
To make the earthquake exercise more realistic a rubble pile was created at the former Spaulding Fiber Plant in Tonawanda, and casualties were placed on the rock to simulate a disaster scene so that specialized National Guard and emergency response teams could work together to practice life saving skills.
"From the start of the exercise we have had numerous agencies out there, mostly military doing site surveys to start us off, looking over the rubble pile , looking over the potential for what we had to do," said Donald McFeeley, incident commander, and Buffalo Fire Department division chief. "They checked the area for hazardous materials, and what issues that might present a problem for search and rescue teams"
Checking for hazardous materials is the responsibility of the Civil Support Team. Upon direction of the Governor, the Adjutant General (TAG) will employ the CST to augment local and regional terrorism response capabilities in events known or suspected to be the target of Weapons of Mass Destruction. The team may also be used as a state or federal resource in times on natural disaster, during a large scale release of toxic chemicals threatening life or property, or other incidents of national significance.
McFeeley added that the military is a good asset to ask for when you need help. The armed forces have a lot of assets that they bring to the table, from medical to people that can just help out, he explained.
"This is the first time I have worked with the Military and the communication has been great," McFeeley said. "They were very approachable and basically told us they we under our command, I have nothing but good things to say about them."
After the scene has been cleared by the CST the long process of removing casualties from a disaster area to begin decontamination and medical treatment begins. That mission belongs to the Chemical, Biological, Radiological, Nuclear, High Yield Explosive (CBRNE) Enhanced Response Force Package (CERF-P) Mission.
The CERF-P is comprised of four functional elements, command and control, casualty search and extraction, casualty decontamination, and medical. Specified Army and Air National Guard Units are tasked to provide the capabilities in addition to their regularly assigned missions. Army National Guard Chemical Companies typically provide the decontamination capability and Engineer Companies typically provide the search and extraction capability. These specialized units will have specialized equipment and training to perform operations in a Weapons of Mass Destruction WMD environment. In order to establish the medical element quickly without duplicating capabilities, the Air National Guard medical groups provide the medical capability. These highly skilled personnel may also be augmented by Army Guard Medical personnel at the discretion of the TAG.
"CERF-P is a mass decontamination Task Force that will aid citizens of this country in times of natural disasters or terrorist attack," said 1st Lt. John L. Passarotti, officer in charge for the New York Guard, the all-volunteer state militia which augments the National Guard "We have a search and extraction element that removes people from demolished buildings, we bring them to our decontamination lines where we wash the contamination off them, then we bring them to out medical service providers where they receive fist aid, and then they are shipped to area hospitals to receive further care."
According to Dr. Robert D. Jacobi, PhD, University of Buffalo professor of geology, the likelihood of a significant seismic event occurring in Western NY is not as remote as one would think.
"During the past 20 years, geologic research that I have conducted with my colleagues at the University of Buffalo and other institutions has led to an understanding that, contrary to the conventional wisdom, western NY, in fact, the entire state, is crisscrossed by literally hundreds of faults," he said. "Many of them, including the largest in our area, the Clarandon-Linden Fault, remain seismically active today."
John R. Gibb, director of the NY State Emergency Management Office (SEMO) added that the citizens of NY State expect State and local forces to work together when incidents large or small strike their communities. It's through these exercises that we practice our plans and hone our skills to ensure a quick and effective response. Vigilant Guard will help us to collectively enhance our response and recovery capabilities in the region.
"Much time and effort has gone into making this a meaningful training exercise that will someday help save lives in an emergency situation, that's what makes this training so very, very important," said Tonawanda Mayor Ron Pilozzi, and Vietnam Veteran.