Troops and Civilians Train to be on Same Page in Disasters
Story by: Staff Sgt. Raymond Drumsta - 138th Public Affairs Detachment
Dated: Thu, Nov 5, 2009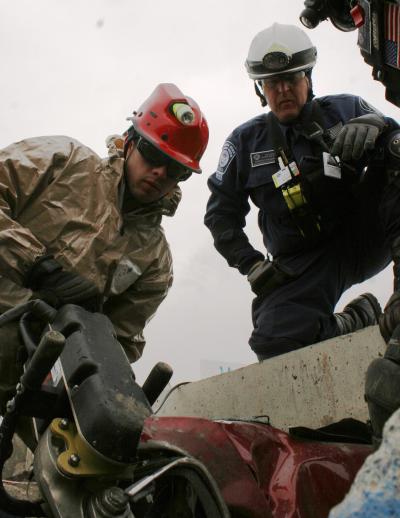 Bob Reardon of the Federal Emergency Management Agency's Urban Search and Rescue Team (right) shows Spc. Joshua Poitras, Massachusetts Army National Guard CERFP member (left) how to use the jaws of life to cut up a car at the Spaulding Fibre site in Tonawanda during Exercise Vigilant Guard on Tuesday. Massachusetts National Guard troops and FEMA personnel taking part in the exercise also practiced rescuing mock casualties from the simulated earthquake disaster area, or rubble pile, located at the site. Photo by Staff Sgt. Raymond Drumsta, 138th Public Affairs Detachment
---
TONAWANDA, NY -- "Purple suits" is a frequently used phrase used to denote interoperability among the United States Military branches -- soldiers, sailors, airmen and marines working together.
In the post 9-11 age, with military forces joining forces with civilian authorities and first responders in things like Exercise Vigilant Guard, that purple has taken on a deeper shade.
Civilian authorities like the Federal Emergency Management Agency (FEMA) Urban Search and Rescue Team put some more blue in the purple on Tuesday as team members Paul Medeiroso, an emergency medical technician, and Tim Robinson, a paramedic, trained with Massachusetts troops at the Spaulding Fibre in Tonawanda.
The FEMA personnel helped troops perform triage on mock earthquake victims in a simulated collapsed building known as the rubble pile, and showed at least one soldier how to cut up a crushed car with tools like the jaws of life and other tools. Citing 9-11 and the Oklahoma City bombing, Medeiroso said civil authorities and military forces have worked together on many occasions.
"The list is endless," he said, adding that events like Exercise Vigilant Guard are vital to honing command and control during disasters. He appeared to enjoy working with the soldiers and airmen on the rubble pile.
"They were doing a good job with the resources they have," he said. "We were talking the same language."
Robinson said their team's mission is to rescue victims from collapsed concrete buildings. They're based in in Beverley, Massachusetts, he added, and train regularly with the New Hampshire National Guard.
"We work together all the time," he said. The Massachusetts troops positive intentions should bolstered by more training and work with real patients, he added.
Prior to deploying, New Hampshire National Guard members rode with them in ambulances, which gave them "real world patient contact," Robinson said.
"These skills erode over time," he said. Joint disaster exercises give military forces and civil authorities to learn each other's roles and capabilities build relationships and build bonds of trust, he added.
"When you come to the scene of a disaster, it's nice to see people you recognize," he said.
The FEMA Urban Rescue Team and Massachusetts National Guard are just some of the civil and military forces taking part in Exercise Vigilant Guard, a joint training opportunity for National Guard and emergency response organizations to build relationships with local, state, regional and federal partners against a variety of different homeland security threats including natural disasters and potential terrorist attacks.
Exercise Vigilant Guard is a national exercise sponsored by the National Guard Bureau and United States Northern Command. The Tonawanda site is just one area in Western New York being used for the exercise, which more than 1300 National Guard troops and hundreds of local and regional emergency response professionals are taking part in.