Gen. Raymond Johns Tours Stewart Air National Guard Base and Niagara Falls Air Reserve Station
Story by: Staff Sgt. Peter Dean and Airman Jonathan Young - 107th Airlift Wing, and 105th Airlift Wing
Dated: Tue, Dec 1, 2009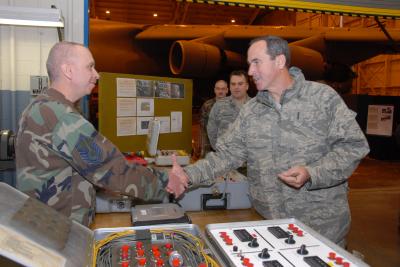 Master Sgt. Stacey Johnson is coined by Gen. Raymond E. Johns Jr., the new commander of Air Mobility Command, as he tours the facilities of the 105th Airlift Wing at Stewart Air National Guard Base on Wednesday, Dec. 2. (Photo by Senior Airman Jonathan Young, 105th Airlift Wing).
---
Niagara Falls Air Reserve Station -- General Raymond E. Johns, Jr., the new head of Air Mobility Command, visited both the 107th Airlift Wing here, and the 105th Airlift Wing at Stewart Air National Guard Base in Newburgh, the first week in December.
At Niagara Falls, Johns met with members of the New York Air National Guard's 107th Airlift Wing and the Air Force Reserve's 914th Airlift Wing, so he could check in the progress of the association between the two reserve component units.
This association is the first of its kind; Niagara will be the example for other Guard/Reserve unit associations to emulate.
At Stewart he met with the Airmen who keep the C-5As operated by the 105th Airlift Wing flying.
Col. Patrick Ginavan, the commander of the 107th and Commander; and Col. Allan Swartzmiller, commander of the 914th escorted Johns around their base. Johns toured shops, squadrons and groups where the 107th and 914th share space and equipment. Shops that were once in separate buildings are now collocated as one, with members from both units working side by side. "Relocating shops into one location has proven to be an effective tool," said Col. Ginavan. Being the first association of its kind, no blue print exists. Many decisions are made at the wing level. Including the decision to join and collocate shops, groups and squadrons. Col. Ginavan along with Col. Swartzmiller heeded the input from their enlisted supervisors, concluding it makes sense to join shops and unite as one. The wing commanders fielded questions from the general relating to Guardsmen and Reservists working together. "Who's the NCOIC?" asked Gen. Johns. "We each have one, they work together," said Col. Ginavan. "One week they're in charge, the next we're in charge," he added. "It's working, it's working, everyone's getting along," said Col. Swartzmiller. "We let the supervisors in each shop work it out, so far its worked," said Col. Ginavan." "The upcoming year will be spent collocating other shops," said Col. Given.
At Stewart, Johns met with Major General Joseph Taluto, the Adjutant General and was briefed on the wing's mission, capabilities, personnel, and family readiness by Gen. Johnston, 105h Operations Commander, Col. Matthew Godfrey, Lt. Col. Howard Wagner the maintenance group commander, Lt. Col. Lori Scheuermann the mission support group commander, and Jeanne Dion the family readiness coordinator. Lt. Col. Chianese also explained the unique security forces' mission that the 105th has.
Johns said he was concerned with how airmen and their families were affected by deployments and employer concerns in regards to the new mission.
During a tour of the maintenance facility, Johns got to meet some of airmen who have made some great innovations such as a hydraulics break tester and landing gear sequencing panel tester, both of which has made things a lot easier for inspections along with saving money.
He said he was especially impressed with Tech. Sgt. Richard E. Wixon's fix of a hydraulics valve seal. Wixon spent $2 on common materials to fix something the government was planning on spending $5,000 to fix.
Story on 105th Airlift Wing Website:
http://www.105aw.ang.af.mil/news/story.asp?id=123181443
Story on 107th Airlift Wing Website:
http://www.107aw.ang.af.mil/news/story.asp?id=123180577