107th Airlift Wing and 914th Airlift Wing Replace Crews and Continue to Support Operation Unified Response
Story by: Sgt Peter Dean - 107th Airlift Wing
Dated: Thu, Jan 21, 2010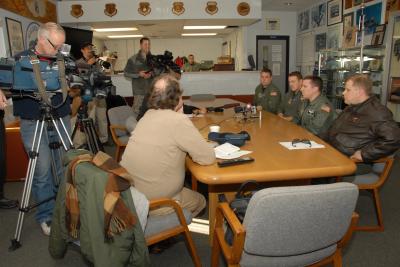 A C-130H carrying members of the New York Air National Guard's 107th Airlift Wing and the Air Force Reserve's 914th Airlift Wing back to Niagara Falls Air Reserve Station, after five days of flying into an out of Haiti arrives at the station on the afternoon of Jan. 21. (Photo by Tech Sgt. Cathy Perrata)
---
Niagara Falls Air Reserve Station, N.Y. -- After a week of missions into and out of Haiti, aircrews from the New York Air National Guard's 107th Airlift Wing and the Air Force Reserve's 914th Airlift Wing returned here Thursday as new crews rotated in to take their place.
During the mid morning hours of Jan. 21, a C-130 with 16 personnel departed Niagara for Pope Air Force Base, N. C. to relieve the existing aircrews and bring those who had been flying missions since Jan. 16 back home.
The Niagara aircrews, a combination of the Air National Guard and Air Force Reserve have been flying missions from Pope AFB en route to Port-Au-Prince throughout the week. While at Pope AFB the planes were loaded with fresh supplies such as pallets of water, food and basic necessities.
"It was an experience I'll never forget," said Capt. Justin Pautler, a 107th C-130 pilot. "Whenever you can utilize your training for the benefit of others, it's a good thing."
In the short time that the crews spent there, a noticeable change had become apparent. "The first night we got there it was total chaos," said Capt. Pautler. "But as the week rolled on, a sense of control had been established," he added.
After the several hour flight to Haiti, cargo is unloaded and Haitians are loaded into the C-130 destine for Homestead Air Reserve Station, Fla. Upon arrival at Homestead ARS, the Haitians were evaluated, given nourishment and medical care. Homestead Air Reserve Station has converted its base gym into a medical center to accommodate the influx of victims.
"We delivered medical and relief supplies down and returned with evacuees," said Capt. Richard Konopczynsky, a 914th C-130 pilot.
"We brought them back to the United States for medical care," he added. "Seeing the despair in the faces of the victims, it's hard not to think of your own family," said Capt. Konopczynsky. "They were devastated, but were very thankful for what we were doing," he added.
According to the captain he flew twenty plus hour and flew six sorties. Transporting thousands of tons of supplies into Haiti and airlifted more than 100 Haitians to Homestead Air Reserve Station for medical treatment.
The Niagara crews were flying around the clock; day and night. The locality of this mission to Niagara enables for frequent crew swaps, ensuring the crews remain fresh and able to respond at a moment's notice.
"Initially there were so many different planes coming in, that a rhythm had not been established," said Tech Sgt. Rick Ackley 914th C-130 Flight Engineer. "By the second night time slots were in place and it was a little easier getting in and out."
Answering humanitarian missions is not unique to Niagara, but this mission is.
With this being the first AFRC/ANG association of its kind, the collocated units now fly and maintain the same C-130 aircraft, sharing the same tail flashes. In the past the 107th as well as the 914th would each be tasked and respond to their own missions.
In 2008 the 107th converted from a refueling wing and flying KC-135s to an airlift wing, flying the C-130. The 914th has been flying the C-130 since the early sixties and is well versed in the use and capabilities of the C-130.
Still under conversion status from the KC-135 the 107th AW is on track to be a proven leader in the airlift community. Together the 107th and the 914th will be an airlifting force second to none. Whether it is a humanitarian mission, an in-country disaster or a world contingency the 107th and the 914th will be ready and able to answer the call.
The C-130 has been around since the Korean War, answering the call for a highly versatile cargo plane. The four prop aircraft has the ability to carry an internal payload of more than 42,000 pounds of supplies or equipment. It also is able to be configured to carry up to 92 passengers and has a range of more than 2,200 miles flying at a maximum airspeed of 386mph. The C-130s ability to land and take-off from undeveloped runways makes it ideal to fly into locations that may have less than desirable landing strips. With all of its capabilities it's easy to see why it's the future of Niagara.
When asked if he was making a difference, Capt. Konopczynsky responded "The fact that those little kids aren't going to be spending the night there makes it all worth it, yes we're doing good."