Atlantis Lifts Into Orbit as New York Guardsmen Stand Ready
Story by: Senior Airman Christopher S. Muncy - 106th Rescue Wing
Dated: Fri, May 14, 2010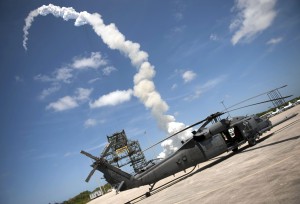 Patrick Air Force Base, Florida-- An HH-60 Pavehawk helicopter from the New York Air National Guard's 106th Rescue Wing stands ready as Space Shuttle Atlantis lifts into orbit on May 14. Memembers of the wing were on hand to provide rescue services if the shuttle crew had been forced to evacuate the vehicle. Photo by Staff Sgt. David J. Murphy, 106th Rescue Wing
---
Patrick Air Force Base, Fla. -- Airmen from the New York Air National Guard's 106th Rescue Wing traveled from New York to Patrick Air Force Base, Fla. to support the upcoming launch of the Space Shuttle Atlantis on May 14.
This mission was the107th time the 106RQW has participated in supporting a shuttle launch.
Guardian Angels and Combat Rescue Officers from the 103rd Rescue Squadron, working in conjunction with the 101st and 102nd Rescue Squadron, along with ground personnel from NASA, remained on standby when the space shuttle Atlantis launched, and provided rescue services should an in-flight emergency arise.
The shuttle ferried the Russian Rassvet Mini-Research Module and the Integrated Cargo Carrier-Vertical Light Deployable to the International Space Station. It was the first space flight in nearly ten years to be crewed solely by veteran astronauts.
In addition to the Rassvet Module and the cargo carrier, the Atlantis carried a four inch long wooden sample taken from Sir Isaac Newton's apple tree.
This mission marks the 163rd manned American space flight, of which the Atlantis has flown 32 times.
STS-132 is the final flight of the shuttle Atlantis, which has been in service since April 1985.
Following Friday's launch Atlantis will remain available as a rescue vehicle should one of the two remaining shuttle launches require it as part of the "Launch on Need" mission.