3rd Hometown Heroes Run Draws 217 Participants
Story by: Spc. Melissa Anderson - 42nd Infantry Division Public Affairs
Dated: Sat, Jun 12, 2010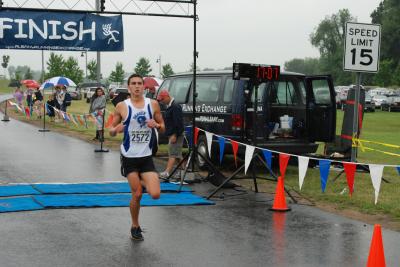 New York Army National Guard Private David Marthy, 17, crosses the finish line first during the 3rd Annual Hometown Heroes Run held at Colonie Crossings Park on June 12 to raise money for the New York National Guard Family Readiness Council
---
COLONIE -- A rainy day did little to dampen the spirits of the 217 National Guard and community runners who participated in the 3rd 'Hometown Heroes Run', an annual fundraiser sponsored by the New York National Guard Family Readiness Council Saturday, June 12th at Colonie Crossings Park.
This year's race was won by David Marthy, a 17-year-old Shaker High School junior who recently enlisted in the Army National Guard. He finished with a time of 17 minutes and 6 seconds.
"This run was a good way to get my feet back on the ground and get in shape as I prepare to go to basic training in a couple weeks," said Marthy.
The first female to finish the race was Air National Guard Master Sgt. Shannon Pingitore of Joint Forces Headquarters. Her time was 20 minutes and 25 seconds.
"As I ran I was thinking about our service members overseas," said Pingitore. "After all they do for us back home, I can spend 20 minutes of my time doing this for them."
The event also included a 400 yard Fun Run for Kids.
Meagan Lettko, who placed first in the children's race, said the race was good exercise and a tradition for her family.
The FRC held the race to raise money to assist service members and families in need through a grant program.
"If a Soldier can't find a job after deployment, the FRC can step in to help with rent, groceries, or anything else that may be needed," said Cherie Murphy, the president of the New York National Guard Family Readiness Council.
Ann Swezey, the chairperson for the Hometown Heroes Run, said the purpose of the run was to raise money for the families and bring the family members together to promote health and wellness.
"We are looking to support the family members who support the Guard so they can do their job," said Swezey.
To learn more about the New York National Guard Family Readiness Council, please visit their website at http://www.nyfrc-inc.org/