New uniform is similar to but different from Army Uniform
Story by: New York Guard Pvt Ubon Mendie - New York Guard Public Affairs
Dated: Thu, Sep 16, 2010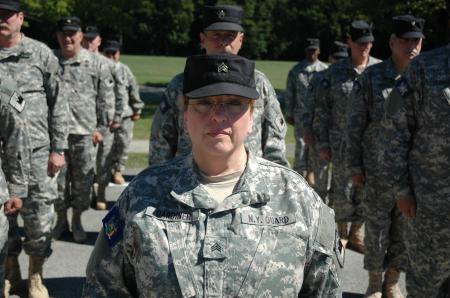 A New York Guard member wears the new distinctive New York Guard version of the Army Combat Uniform. (Photo by New York Guard Pvt. Ubon Mendie)
---
The New York Guard has a new look.
The Adjutant General has officially authorized members of New York's volunteer state defense force to wear a modified Army Combat Uniform, phasing out the use of the old Army Battle Dress Uniform.
The publishing of NYG Directive 1334.2 authorizes the much anticipated change following in the footsteps of the New York Army National Guard.
"The long awaited switch to the Army Combat Uniform for soldiers of the New York Guard became a necessity this year, due to the dwindling availability of the old Battle Dress Uniform," said New York Guard Deputy Chief of Staff, Col. David Molik.
The ACU uniform may look the same as our National Guard counterparts, but there are various changes mandated to give a clear distinction between the personnel of both organizations, Molik explained.
Listed are the changes and various tips on how NYG soldiers can insure they purchase the authorized materials as set forth by the uniform directive.
The G4 section, which is responsible for the transition and implementation of the new regulation, urges soldiers to purchase uniform items from NYG authorized retailers.
There are many retailers selling uniform items of poor quality. Not all ACU looking uniforms are authorized. (Recommended retailers are not mandated to be used. The sole mention of any retailer is to help direct service personnel where the authorized materials can be allocated)
ACU Jacket The ACU jacket cannot be worn with infrared tabs. The tabs are small black shiny squares attached to the left and right shoulder pocket flaps. While choosing color choose ACU digital camouflage. The ACU combat shirt, which resembles a grey long sleeve t-shirt is not authorized for wear by NYG members. Available at: o Propper on www.amazon.com o TRU-Spec on www.amazon.com
ACU Trouser Infrared tabs are not authorized to be worn on the NYG uniform trouser. Color selection should be the ACU digital camouflage. Available at: o Propper on www.amazon.com o TRU-Spec on www.amazon.com
ACU T-shirt Only a grey t-shirt is authorized for wear. The ACU combat shirt (previously mentioned) is not authorized to be worn as an undergarment. Available at: o www.amazon.com o US Cavalry www.uscav.com
ACU Belt The authorized belt is the U.S. Army Universal ACU Desert Brown Nylon Belt (Tan in color) Available at: o www.SupplyCaptain.com o TRU-Spec on www.uscav.com Boots Authorized boots must be between eight and 10 inches in height, made of tan, rough side out, cattle hide leather, with a plain toe and a soling system similar in color to the tan upper materials. Boots with metal or plastic cleats in the bottom of the soles and sewn-in or laced-in zippers or Velcro inserts are not authorized. There are two types of authorized boots: a) - Army Combat Boot, Hot Weather b) Army Combat Boot Temperate Weather The main difference is one has a Gortex membrane, which makes it more suitable to Wet and cold conditions. Available at: o Ft. Hamilton Uniform Store (must be in civilian attire and have NYG ID) o West Point Uniform Store (must be in civilian attire and have NYG ID)
Name Tapes/New York Guard Tapes Name tape identifiers and organization name identifiers must be sewn on. Velcro taped name tags are not authorized, nor are digital camouflage backed nametapes authorized. The tapes must be Air Force Grey with black lettering. Available at: o www.SupplyCaptain.com o www.1800nametape.com
SSI Patch, State Flag, and rank patches The New York Guard Crest (SSI), New York State Flag (Blue), and rank insignia are authorized to be worn both affixed by Velcro or by being sewn. The rank insignia will be worn on an ACU camouflage background only. o Be aware there is an unauthorized SSI in circulation. It can be identified by a black circle inside the sun embroidered on the patch. o The NY Flag Patch must be fully colored blue, therefore no subdued NY Flag patches will be worn. Available at: o www.SupplyCaptain.com o www.1800nametape.com
Qualification Badges All badges must be black in color. Headgear The black patrol cap is the only authorized headgear in the ACU uniform. (No berets, or digital patrol caps will be worn) o Members are only authorized to affix a gold rank insignia, centered over the nose. o The patrol cap must be black with a full back. No elastic based, or adjustable band backs, similar to a baseball cap can be worn. o There should be no visible seam in the middle of the patrol cap worn. Available at: Ranger Joe's While the ACU is authorized for wear, it isn't mandated. The BDU's can continuously be worn until September 30, 2013.
During the transitional period temporary alternatives allowed are: wear of the new Army Combat Boots with both the BDU and ACU uniforms. As well as authorization for wear of the new Black Patrol Cap and the Moisture-wicking T-Shirt with BDU's.
For more guidance and or clarification reference the NYG 1334.2 Directive online at: http://dmna.state.ny.us/nyg/nygd/1334-2.pdf