Historic NYC unit Welcomes New Leadership
Story by: Spc. J. Princeville Lawrence, - 42nd Infantry Division public affairs
Dated: Sat, Nov 20, 2010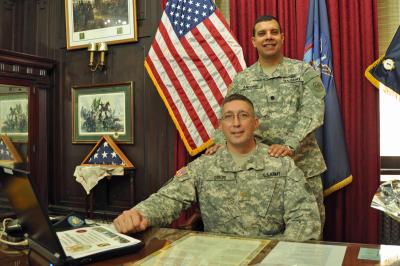 With the passing of the unit flag from one hand to another, command of the 1st Battalion, 69th Infantry Regiment officially transferred from Lt. Col. John Andonie (rear) to Maj. James C. Gonyo II (front) in a ceremony in Manhattan, Saturday.( U.S. Army Photo by Spc. J.p. Lawrence)
---
NEW YORK (11/22/2010)-- Change was the theme inside the historic 69th Regiment Armory Saturday, as approximately 90 Soldiers and well-wishers packed the drill floor Nov. 20 to celebrate the change of command of one of the New York Army National Guard's most historic units.
Command of the 1st Battalion, 69th Infantry Regiment officially transferred from Lt. Col. John Andonie to Maj. James C. Gonyo II in a ceremony equal parts celebration, tradition and acknowledgment.
Andonie, a West Point graduate who earned a Bronze Star in Iraq, led the "Fighting 69th" for the past two years. Now, he moves onto a staff assignment at the New York National Guard's Joint Force Headquarters as deputy director of operations and training.
"The last two years have been an incredible ride for me," Andonie said. "I don't think there's any assignment out there that compares to being commander of the 69th.
"No one ever leaves the Fighting 69th," Andonie added. "We're all part of one family, connected by our history, our lineage, and our supporters."
Gonyo, who received his commission from Officer Candidate School in Fort Benning, Ga., also received a Bronze Star for service in Iraq. During his 19-year military career, he has served in a variety of assignments, including tactical officer for the New York National Guard's Officer Candidate School and commander of the New York National Guard Counterdrug Task Force, among others.
"Today's not really not about me, it's about Lt. Col. Andonie," Gonyo said. "It's about sharing our love, and our thanks for the job that he's done.
That thanks included a reception in the armory's Duffy Room, home of paintings of past commanders, members of the unit's 159 years of rich history - a history that Andonie took pains to nurture.
"You have to recognize your roots and where you came from," Andonie said. "You lose that, you lose who you are. I've been really strict that we know our traditions and our heritage. All the Soldiers here need to know what it means to be part of the 'Fighting 69th.' We have a strong tradition and heritage here, and I didn't want to see that die.
"I look forward to serving with you," Gonyo said, addressing his future Soldiers. "You're a great group of Americans, and today is one of the proudest moments in my military career."
The 1-69th Infantry is headquartered in the historic Lexington Avenue Armory in New York City. The battalion's Company A is also based there, while Company B is located in Huntingdon and Freeport, Suffolk County; Company C has elements at Camp Smith in Westchester County and Leeds, Greene County. Company D is in Bayshore, Suffolk County.