106th Rescue Wing Airman Makes it Through Challenging Course
Story by: Senior Airman Natasha E. Stannard - 92nd Air Refueling Wing
Dated: Fri, Dec 10, 2010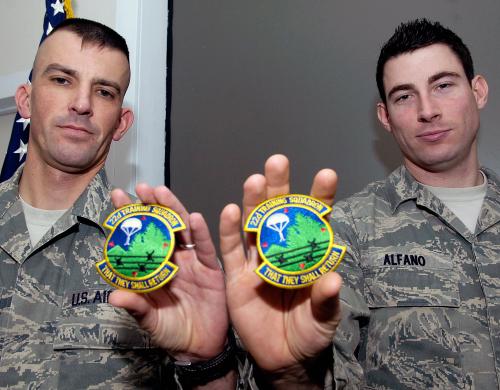 Staff Sgt. Andrew Dunn and Airman 1st Class Brian Alfano were the first Reserve and Air National Guard Airmen to graduate from the 22nd Training Squadron's survival, evasion, resistance and escape course at Fairchild Air Force Base, Wash. They graduated Dec. 2, 2010. This course was specially tailored so Guard and Reserve SERE specialists could receive training comparable to their active duty counterparts. Airman Dunn is from the Air Force Reserve Command's 514th Air Mobility Wing at Joint Base McGuire-Dix-Lakehurst, N.J., and Airman Alfano is from the New York Air National Guard's 106th Rescue Wing at Gabreski Airport in Westhampton Beach, N.Y. (U.S. Air Force photo by Senior Airman Natasha E. Stannard) (Released)
---
FAIRCHILD AIR FORCE BASE, Wash. - Airman 1st Class Brian Alfano, a member of the 106th Rescue Wing's 103rd Rescue Squadron, is one of two Airmen to graduate from a new course being taught at this base for members of the Air National Guard and Air Force Reserve.
Alfano and Staff Sgt. Andrew Dunn, from the 514th Air Mobility Wing, completed course SV-95, enabling them to teach survival, evasion, resistance and escape techniques on Dec. 2.
"This is a significant event for our squadron and the career field," said Air Force Lt. Col. William Rowell, the 22nd Training Squadron commander. "The purpose of this course is to make well-rounded SERE specialists for the (ANG) and Reserve by giving them the skills every SERE specialist needs."
SV-95 gives Guardsmen and reservists the opportunity to go through a condensed version of the training their active-duty counterparts complete to become SERE specialists.
This is important to their home units because it enables them to return faster and begin teaching Airmen in need of survival training, while minimizing the impact on their civilian employers, officials said.
"We did six field-training trips in three months; active duty does them in six months," Dunn said. "Joint Base McGuire (N.J.) is a deployment hub for every service and active-duty SERE specialists have been training everyone to include Guard and Reserve (Airmen). Now I can come in as a certified instructor, and help them train."
The Air National Guard and Reserve employ 16 SERE specialists, and because Dunn and Alfano are the only ones to complete the SV-95 course thus far, they will travel to teach SERE techniques to fellow Airmen at other installations, as well as members of other services.
"It's important the Airmen are functionally able to complete the tasks, but it's essential they can teach them," Rowell said.
Now that Dunn has completed the course, he will be returning to 514th Air Mobility Wing at Joint Base McGuire-Dix-Lakehurst.
Before joining the Air Force, he was an Army military police officer for 11 years. In 2003, he got out of the Army, but never lost his passion for the military or teaching Soldiers.
"I was trying to get back into the military and was looking for something in the Air Force that was similar to what I did in the Army," he said. "My favorite thing about the Army was training Soldiers, and SERE is something that offers that with Airmen. Plus, we get to jump out of planes."
Alfano will be returning to the 106th Rescue Squadron in N.Y. and said he couldn't be happier with his decision to become a SERE specialist.
"This is something that is a home run," he said. "Teaching any portion of this career field is exciting because it helps others."
Though these Airmen will be certified to teach, they aren't able to deploy, as SV-95 is specially designed to provide skills needed to function at a local level. After 56 weeks of additional training at their home stations, however, the Airmen will have the appropriate skills and experience for deployments.
"I really feel like I would be an incomplete SERE specialist if I didn't go through this course," Alfano said. "It made me realize the nature of my job, and it's nice to know I have a SERE brotherhood to fall back on."