Story by: Spec. Rachel Sanzo - 42nd Infantry Division Public Affairs
Dated: Sun, Jul 15, 2012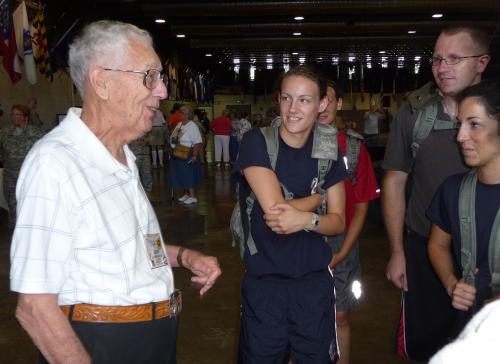 TROY, NY-- New York Army National Guard recruits enrolled in the Recruit Sustainment Program speak to John Walker, a World War II veteran of the 42nd Infantry Division during the visit of the veterans to the 42nd Infantry Division Headquarters building at Glenmore Road on Saturday, July 15. Members of the 42nd Division Veterans Memorial Foundation held their annual reunion in Albany July 13-15.
---
by Spc. Rachel Sanzo, 42nd Infantry Division Public Affairs



ALBANY, N.Y. --- Rainbow Soldiers past and present, young and old, gathered to share stories and military experiences with one another at their 93rd Annual Reunion hosted by the 42nd Rainbow Division Veterans Memorial Foundation.



42nd Infantry Division veterans and families from all across the country assembled at Hotel Albany to mingle, reminisce, and tour the historic city here, July 11-14, 2012.



What had traditionally been an event attended by World War II era veterans and their families, the annual reunion this year brought in a broader audience by holding a special reception for 42nd veterans who composed Task Force Liberty in Iraq.



The Task Force Liberty reception marked the first official gathering of Iraq war veterans as part of the 42nd Rainbow Division Veterans Memorial Foundation. The event allowed current Soldiers to meet Foundation members and join the Foundation themselves, helping secure the future of the Foundation in the hands of younger Soldiers who will be able to carry on the legacy of the Rainbow for years to come.



"This year's reunion marks the beginning of a new generation of leadership ready to move our Foundation forward," said retired Maj. Gen. Joseph J. Taluto, the Chairman of the 42nd Rainbow Division Veterans Memorial Foundation. "This new leadership has been and will continue to be guided by those World War II era veterans and their families."



In addition to being chairman of the Foundation, Taluto was the former Adjutant General of the New York National Guard and past commander of the 42nd Infantry Division during their deployment to Iraq in 2005. Taluto is one of the first Foundation members to represent the current Rainbow era and serve as a reminder of the importance of preserving history for future generations.



"I am proud to report that many new officers and committee chairpersons have stepped up to take responsibility and I look forward to working with them in the months and years ahead," said Taluto. "The new Foundation membership will continue to build upon the legacy of the gallant men and women who have served, recognizing their valor, heroism and patriotism, and the sacrifices made by them and their families. "



Reunion events included a visit to the historic New York State Military Museum in Saratoga Springs, an Aqua Duck tour highlighting landmarks along downtown Albany, and a memorial service held at the 42nd ID Headquarters in Troy commemorating fallen Rainbow Soldiers.



"We are eager to see the rich history of the 42nd available in close proximity of the reunion," said Linda Owen, the 42nd Rainbow Division National Auxiliary President. "It is especially gratifying being able to see the Rainbow carrying on the traditions and leadership to new heights."


News Story: World War II Rainbow Division veterans pass the torch to current generation